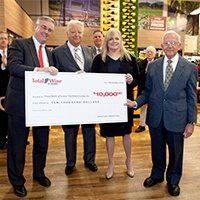 Since we first opened our doors in 1991, Total Wine & More has been committed to supporting the communities in which we work and live. We strive to be a responsible corporate citizen and make a difference in each of the communities we serve.
We support our local communities by making in-kind donations to the organizations our customers support. Over the past two decades, Total Wine & More has proudly supported local, regional and national charitable organizations with more than $100 million in in-kind and monetary donations. In 2018 alone, Total Wine & More donated over $9,000,000 to 13,000+ organizations across 23 states, helping those organizations raise over $76 million for their worthy cause.

We rolled out our Points with a Purpose program to thank customers and give back to our communities. From August 3 through September 13, 2020, customers collected 5x the points on every purchase of Winery and Spirits Direct products—and we donated $1 to a local charity for every $1 of bonus points earned.
The response and the results were outstanding—we donated over $2 million to local charities across the country!
Donation Requests
Total Wine & More can help with fundraising events by contributing in-kind donations, items for auction, raffle prizes and discounts.
Past Collaborations
We've supported our communities by hosting charity events, offering promotions and donating portions of our daily proceeds.
You may also be interested in…