Lagunitas IPA
12pk-12oz Btls
California- American India Pale Ale (IPA) - 6.2% ABV. A well-rounded, Highly drinkable India Pale Ale. A bit of Caramel Malt barley provides the richness that mellows out the twang of the hops, including Cascade, Centennial, Chinook and a splash of honorary 'C' hop, Simcoe.
TASTE
Hoppy, Citrusy, Piney, Spicy
Lagunitas IPA
12pk-12oz Btls
Limited Quantity
Sacramento (Arden)
Aisle 11, Left
Available
Confirm your address to check eligibility.
Beer is not eligible for shipping to California.
*Price, vintage and availability may vary by store.
OVERVIEW
Subtype / Style
American craft brewers can take credit for reviving India Pale Ale since introducing their interpretations of the style to the American market in the 1990s. Brewed to bold levels of hop aroma, flavor and bitterness, American IPAs are perhaps more akin to original English IPAs from the 1800s than any others today. The American hop varietals in American IPAs take fruity, citrusy, floral, piney, resinous aromas and flavors to much higher levels than in standard American Pale Ales. Ranging in color from pale gold to orange to deep copper, some American IPAs are clear, and others may be hazy if dry-hopped or left unfiltered. The intense hop bitterness in the best American IPAs predominates over medium, clean malt levels, making this a no-apologies American beer style with hop character that picks up where American Pale Ale leaves off.
Producer Story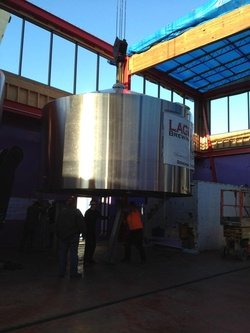 Lagunitas brews their year-round selections and seasonal offerings with what founder Tony Magee calls "a bizarre Old World tradition using only water, hops, yeast and malted barley." Lagunitas' brewers aim to craft beers that offer "richness and warmth" when the seasons turn cold, and "crispness and refreshment" in the spring and summer.
Their numerous year-round beers include Lagunitas Pils, Pale Ale, Censored (American Amber/Red Ale), A Little Sumpin' Sumpin' Ale (Wheat Ale/IPA), Imperial Stout and a lineup of IPAs: Lagunitas IPA, Maximus IPA and Hop Stoopid Ale.
Lagunitas' Petaluma brewery grew rapidly over the past decade, and its owners opened another brewery in Chicago, Magee's home town, in 2014. Each facility is expected to make some 500,000 barrels of beer annually.
Source: Lagunitas Brewing Co.