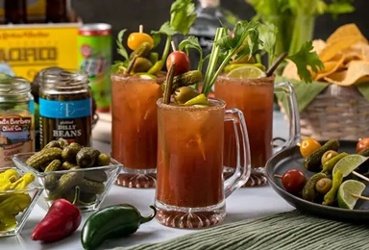 Overview
---
Tired of the traditional Bloody Mary? Try it with a twist! Instead of Vodka, the Bloody Maria is made with Tequila and Mexican beer, and it's the perfect pour for tailgating or watching the game.
Instructions
Spread Bloody Mary Rimmer on a small plate.

Wet rim of glass with a lime wedge or water, then dip rim of mug into rimmer.

Fill glass with ice and pour in Bloody Mary mix and lime juice.

Add Tequila and Mexican beer.

Add hot sauce to taste, if desired.

Stir well, then garnish with your favorite Bloody Mary toppings.