Bordeaux means magic to most wine connoisseurs: a storied region where wine is made in castles. Winemaking in Bordeaux is about the art of blending. Though aromatic white wines and spectacular dessert wines come from Bordeaux, the region is famous for red blends that star Cabernet Sauvignon, Merlot, and Cabernet Franc. Whether from the Left or Right Bank, these supple, age-worthy reds have inspired wine lovers worldwide.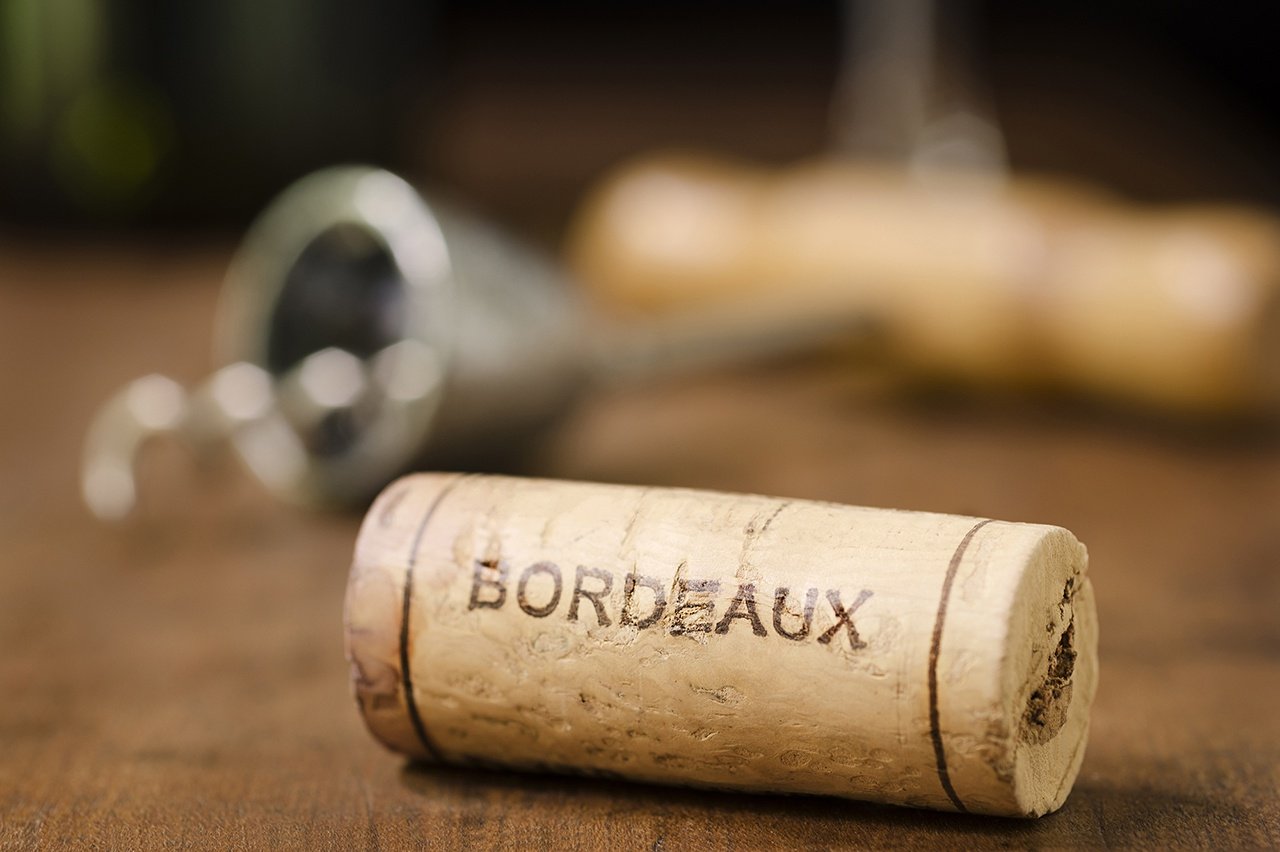 5 facts to know about Bordeaux 
Bordeaux's red blends are famous but don't miss out on the lively white blends or the late harvest dessert wines from Sauternes and Barsac.

The year the grapes were picked or vintage is vital in Bordeaux because the wines vary with the weather.   

In 1855, French officials ranked some Bordeaux wine estates into five tiers called growths according to price. Wineries in the  First Growth (Premier Cru in French) top tier, like Château Margaux, Château Latour, and Château Haut Brion, are still considered the best today. However, many excellent wineries were never ranked.

Cabernet Sauvignon may be king in Bordeaux, but Merlot is the most widely planted red grape.

To find exceptional values, look for wine from estates near famous First-Growth wineries. 
About the Bordeaux region
Bordeaux is both a famous wine region and a bustling city in southwestern France. Bordeaux's wines have been prized since the 1100s, when British kings developed a taste for them. 
Red Bordeaux wines are a blend of five grapes: Cabernet Sauvignon, Merlot, Cabernet Franc, Malbec and Petit Verdot. White Bordeaux blends zingy, crisp Sauvignon Blanc, and more lush, perfumed Semillon. Dessert wine fans will adore the thrilling, concentrated dessert wines from Sauternes, Barsac, and Fronsac.  
The Bordeaux region is defined by its waterways. The Gironde Estuary flows from the Atlantic and splits into two rivers, the Garonne and the Dordogne. Besides abundant water, Bordeaux has cool nights, moderate sun, and well-drained limestone, gravel, sand, and clay soils that create wines with concentrated flavors.
Wine collectors follow Bordeaux vintages the way baseball fans study batting averages. Cooler, less sunny years create leaner, brighter wines, while ripe grapes in warmer vintages make bigger wines with more alcohol.  
Left Bank vs. Right Bank
That Gironde Estuary also divides Bordeaux into the Right Bank and Left Bank. On the Right Bank, north of the Dordogne River, wineries make blends with Merlot and Cabernet Franc. Right Bank wine-growing regions or communes include St.-Émilion and Pomerol, legendary for supple wines with complex aromas.  
The Left Bank, south of the Garonne River, is the more famous side of Bordeaux. Here you'll find famed châteaux including Château Latour and Château Margaux, making age-worthy Cabernet Sauvignon-led wines with a perfect balance of power and restraint.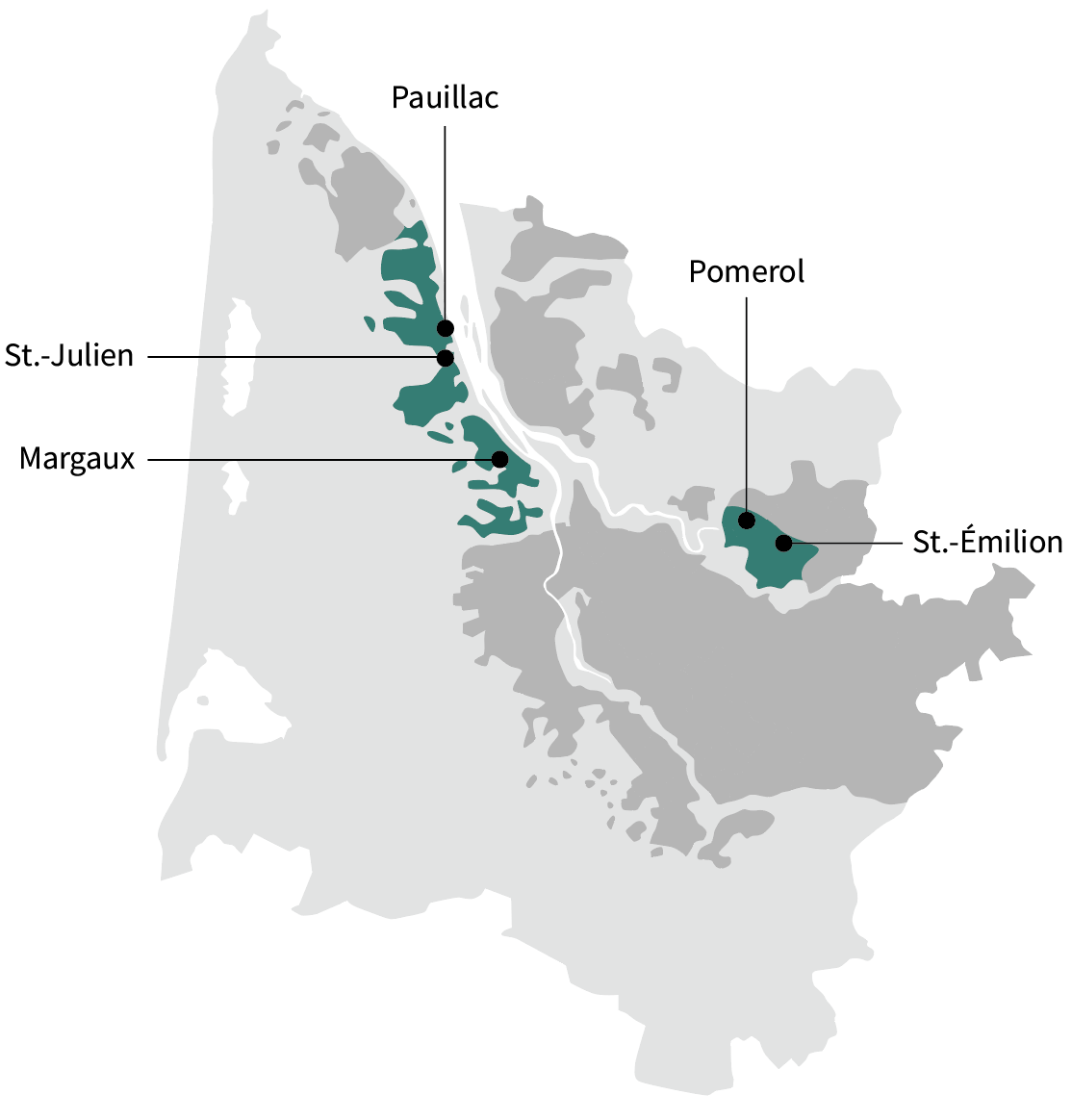 Left Bank appellations to know
On the Left Bank, Cabernet Sauvignon wines show notes of blackberry, black currant, dark cherry, vanilla, licorice, cedar, or pencil lead. Here are some notable sub-regions or communes:  
Pauillac
This is the home of quintessential Bordeaux: Château Latour, Château Mouton Rothschild and Château Mouton Rothschild. Pauillac (POI-yack) has various soils, so the wines can be vivid or more subtle, but they share firm tannins that mellow over time.  
St.-Julien 
This tiny area is known for refined wines with prominent tannins. St.-Julien has more wine estates included in the 1855 classification than any other area.  
Margaux
This vast commune is home to many acclaimed estates, including Château Margaux and Château Palmer. Margaux's best wines are powerful but elegant, satiny, and refined. 
Right Bank appellations to know 
Cabernet Franc, the ancient grape that's the father of Cabernet Sauvignon, shows tart red fruit, spice, and brightness. Mixing it with velvety Merlot's blackberry and cherry notes creates aromatic and beautiful wines.  
St.-Émilion 
Diverse soils, from sand to limestone to gravel, produce red wines with red fruit and spice or rich darker notes. But they share minerality, complex perfume, and intense flavors. Rare wines from Château Cheval Blanc (which had a cameo in Disney's Ratatouille) are highly prized.  
Pomerol  
Pomerol is beloved for rich wines with a texture like suede or velvet and flavors of plums, dark chocolate, and purple flowers. The most famous estate is Château Petrus, which has a cult following.  
Red Bordeaux blends
Red Bordeaux wines are a blend of five grapes: Cabernet Sauvignon, Merlot, Cabernet Franc, Malbec and Petit Verdot. Carménère is also allowed but rarely used today. Winemakers select their mix of grapes depending on the house style. Left Bank blends are mostly Cabernet Sauvignon, while Right Bank blends feature Merlot or Cabernet Franc. Red Bordeaux wines display dusty red and black fruit, minerality, and noticeable tannins that dry your mouth and give the wine texture.
Color

Tasting profile

Primary flavors

Red Bordeaux pairings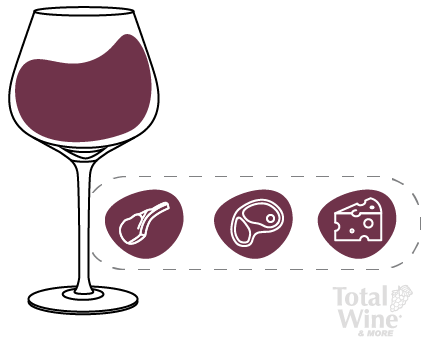 White Bordeaux blends
White Bordeaux is a dance between two white grapes that are opposites. Sauvignon Blanc is tangy, green, and herbal, while Semillon is full of golden apples, tropical fruits, and lemons in a slightly heavy texture. Together they create memorable and refreshing wines that are crisp, floral, tropical, and a treat to uncork.
Color

Tasting profile 

Primary flavor

White Bordeaux pairings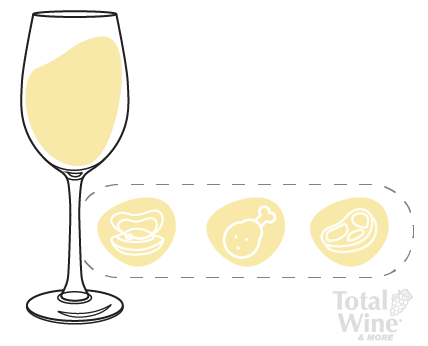 Sauternes + late-harvest wines
Sweet, late-harvest wines like Sauternes and Barsac are made from Semillon, Sauvignon Blanc, and Muscadelle grapes left on the vine long into autumn. A beneficial mold called noble rot dries out the grapes, concentrating the sugars and flavors. High sugar and acidity mixed with intense peach, honey, and spice flavors make wines like Château D'yquem Sauternes and Château Doisy-Daëne Barsac thrilling. 
Color

Tasting profile 

Primary flavor

Late-harvest wine pairings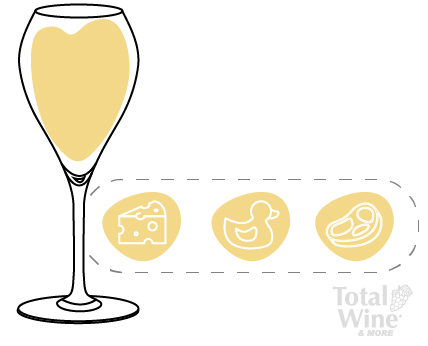 The balance of honeyed fruit flavors and natural acidity makes Sauternes and Barsac divine with salty, rich food, such as Jamon Iberico, pork belly, blue cheese, duck liver foie gras, spicy Asian dishes, and lighter stone-fruit desserts.
How to store, serve, & enjoy 
Bordeaux wines need a cool, dry place away from vibrations. If you keep your house at a chilly 61 to 64 degrees, then you can serve red Bordeaux at room temperature, and white Bordeaux at 43 to 47 degrees. Dessert wines like Sauternes and Barsac are best at 50 degrees. Put red wine in the refrigerator an hour before serving, and take white wine out of the cold 30 minutes before you uncork it. 

If your Bordeaux is older, you may want to gently decant it to remove sediment from the pigment that has settled in the bottle. But other people skip this step because decanting can strip away some of the subtle flavors and aromas.  

Choose a wine glass with a large, elongated bowl so you can appreciate red Bordeaux's nose. White Bordeaux is a bit more delicate, so a smaller glass will do. Serve intense and precious Sauternes in tiny cordial glasses. 
How to read a label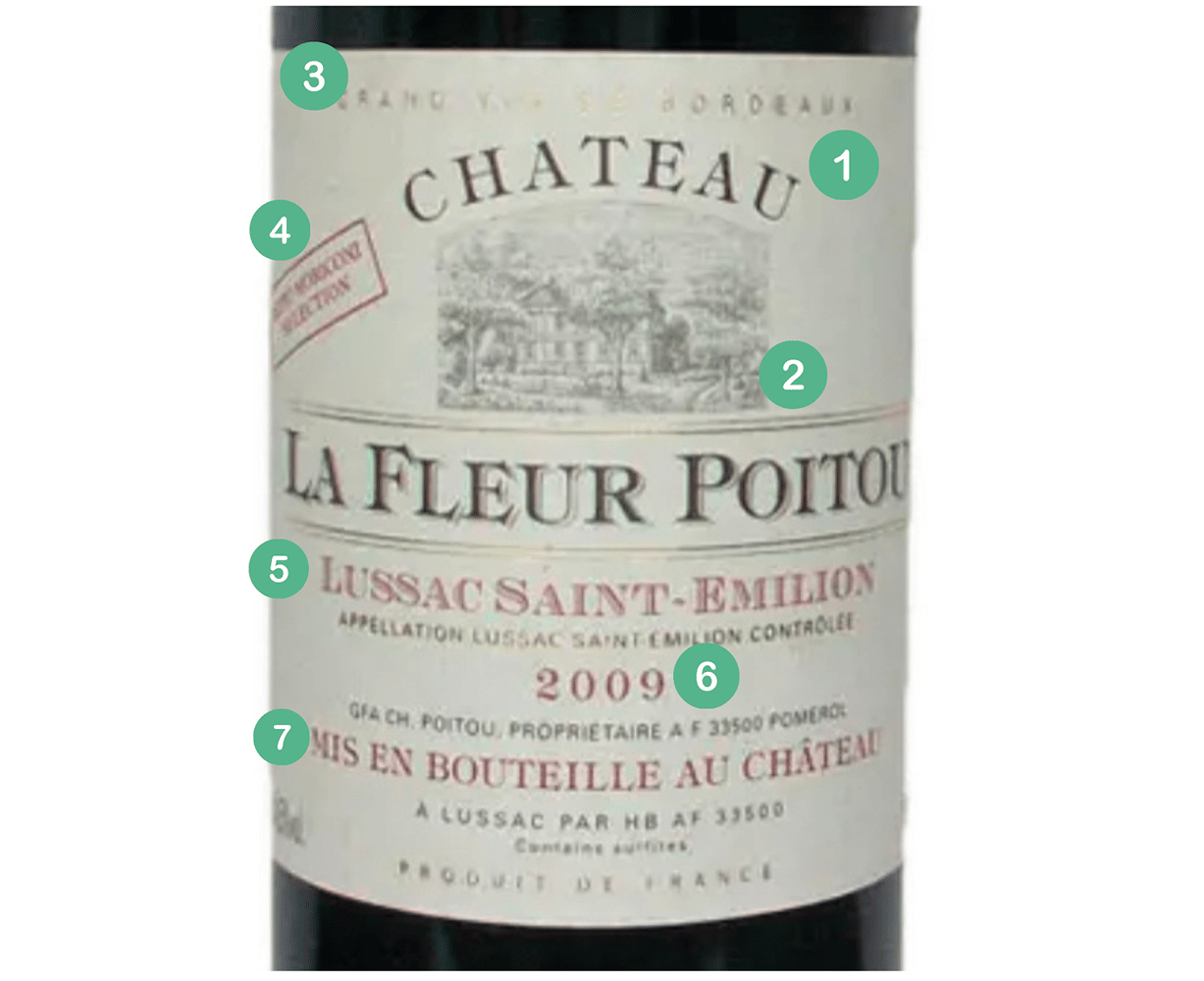 Winery name: Château La Fleur Poitou is the name of the winery.

Castle image: They're allowed to show a castle (château) if it's the original, and it's still in existence.

Classification: Grand Vin du Bordeaux is an unregulated term that means this is the château's top wine.

Growing area: Lussac-Saint-Emilion is the commune, or defined geographic area where the grapes were grown. This area of the Right Bank specializes in red wines that feature Merlot and Cabernet Franc. 

Year: This is the vintage, the year the grapes were harvested.

Bottling statement: Mis en bouteille au château means the wine was bottled at the estate where the grapes were grown.