Why is Cabernet Sauvignon so popular? From California to France and Chile to Australia, Cabernet is grown in almost every winemaking region around the globe. The thick, durable skin on the berries makes them resistant to the elements and easy to grow. Every region imparts slightly different qualities, but Cabernet Sauvignon's concentrated dark fruit flavors make it a favorite of many wine lovers.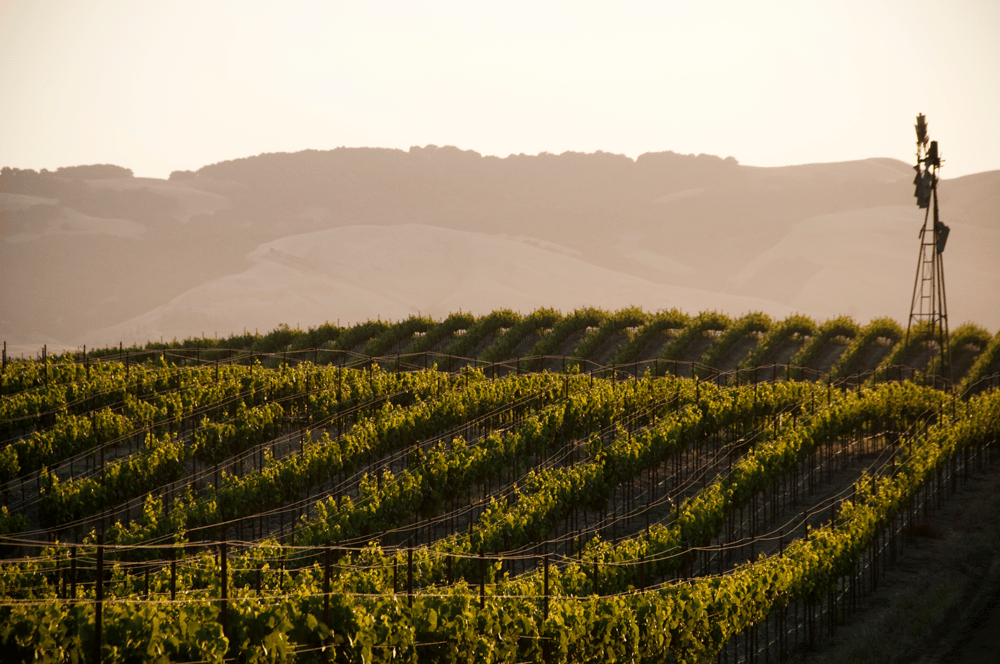 3 facts you should know 
Cabernet grapes came from a spontaneous cross between Cabernet Franc and Sauvignon Blanc during the 17th century in France.

Cabernet Sauvignon is the world's most widely planted grape variety. 

Merlot and Cabernet Franc are often blended with Cabernet to soften the tannins and add red fruit flavors. 
Color

Tasting profile

Cabernet Sauvignon, pronounced [cah-behr-NAY so-veen-YAHN], is almost always made as a dry (unsweet) style of red wine. In winemaking during the fermentation process, the yeast consumes all the sugar from the Cabernet grapes resulting in a dry-style wine.
Cabernet Sauvignon wines also have high levels of tannin that produce a mouth-drying sensation and medium levels of acidity that cause your mouth to water. These characteristics make Cabernet Sauvignon perfect for pairing with rich, salty food.   
Primary flavors

Bold. Full-bodied. Fruity forward. Perfect ways to describe the taste of Cabernet Sauvignon. Depending on where the grapes are grown and factors like climate, soil, and weather, the flavors of Cabernet wines can vary. Overall, most Cabernet Sauvignon wines have flavors of dark fruits, like black cherry, blackberry, and black current and some have herbaceous aromas of green pepper.  
​Ever enjoy a bottle of Cabernet Sauvignon that smelled of vanilla? If Cabernet is matured in oak, particularly new oak, the wine will take on spice flavors, including vanilla, cedar, and clove.  
​High tannin and acidity give Cabernet Sauvignon wines the ability to age well. After several years of aging in the bottle, Cabernet wine can develop additional aromas and flavors of bittersweet chocolate, tobacco, and leather. 
Key winemaking regions
Cabernet Sauvignon is an international winemaking grape that is prized for age-ability, noticeable tannins, and deep flavors of dark fruits, herbs, spices, and earth. It was originally made into wine in the Bordeaux region of France but has since made its way to wine regions around the world.  
France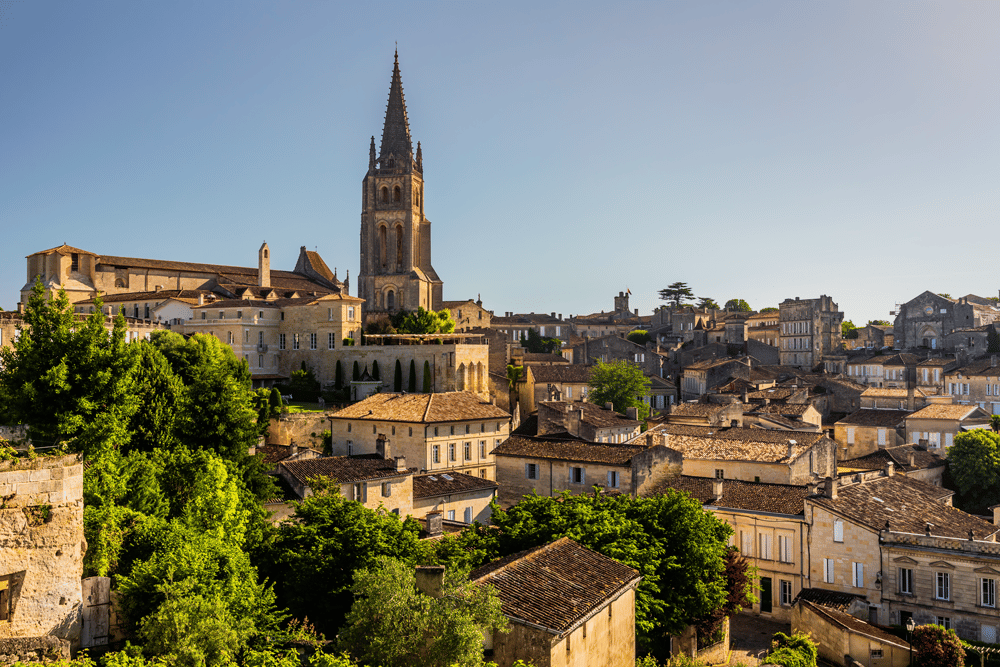 Bordeaux is the original growing region for Cabernet Sauvignon and the place where Cabernet Franc and Sauvignon Blanc crossed to create the Cabernet Sauvignon grape we know and love today.
​Cabernet Sauvignon from Bordeaux has more earthy and mineral notes due to the gravel soil and slightly cooler climate. In Bordeaux, Cabernet, Merlot, and other natively grown grapes are blended to make the world-renowned Bordeaux red wine blends. Merlot helps to soften the tannins and bring out red fruit flavors.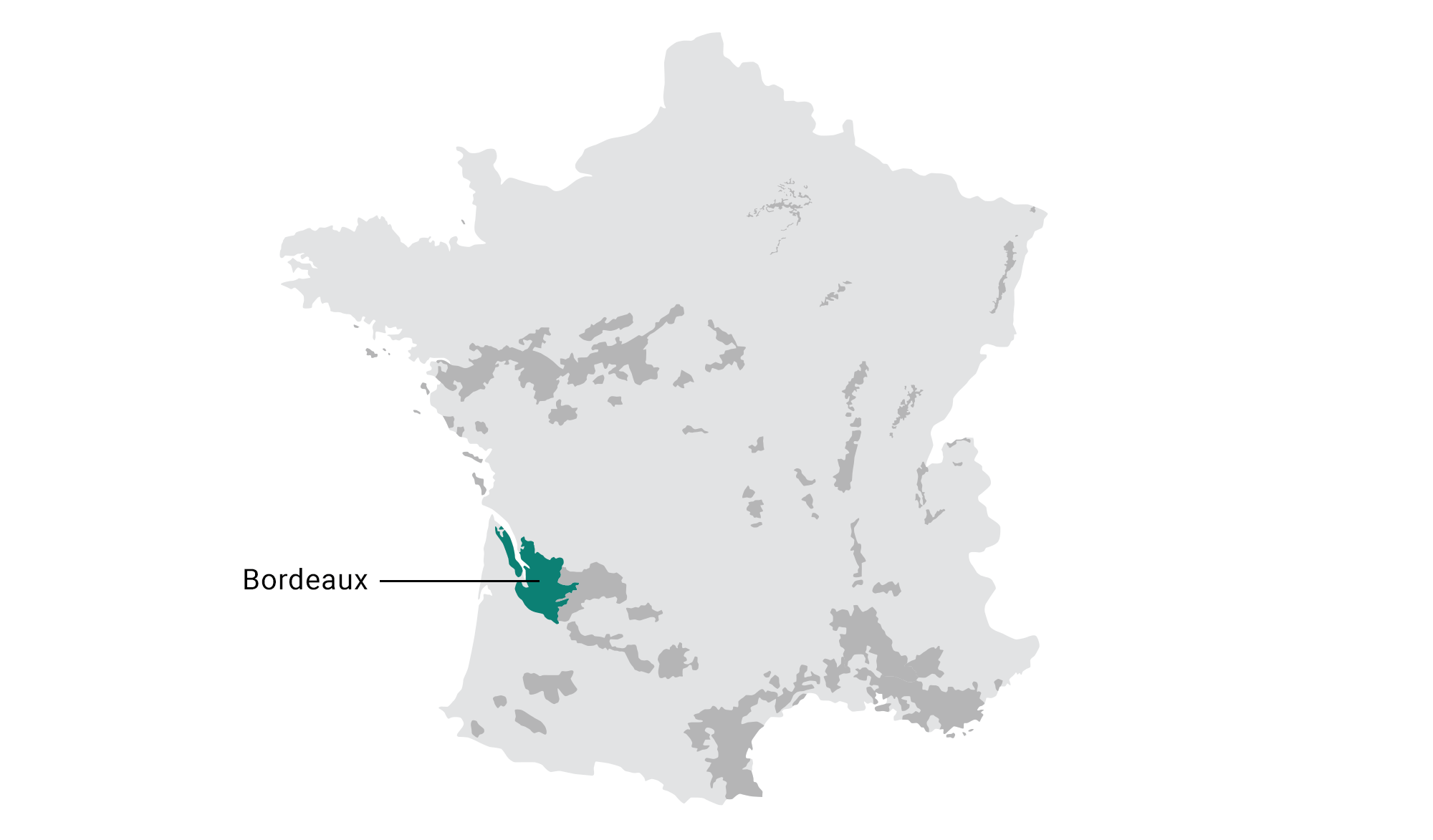 California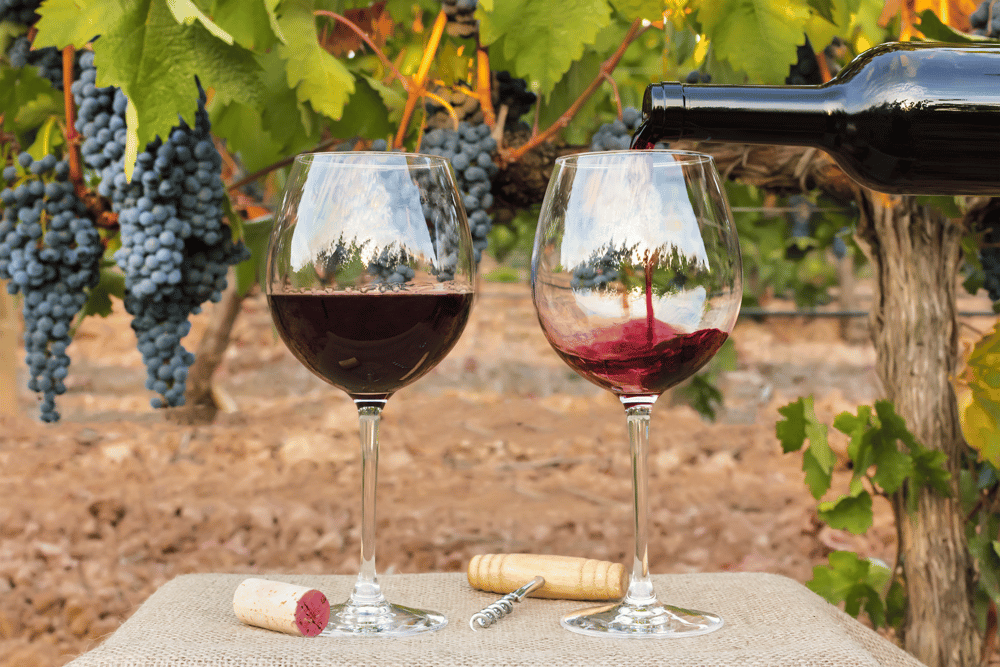 Up until 1976, everyone thought the best red wines came from France. But a California Cab outranked a French Bordeaux in the 1976 Judgement of Paris tasting. Now, Cabernet Sauvignon is made throughout Northern California, most notably Napa Valley and Sonoma County. 
Sunny days and cool nights make Napa Valley the perfect place to grow Cabernet. The warmer climate produces concentrated black fruit flavors, higher alcohol, lower acidity, and bolder tannins.
Sonoma County has a cool micro-climate and varied soil types that produce Cabs with slightly softer tannins, brighter acidity, and more red fruit flavors.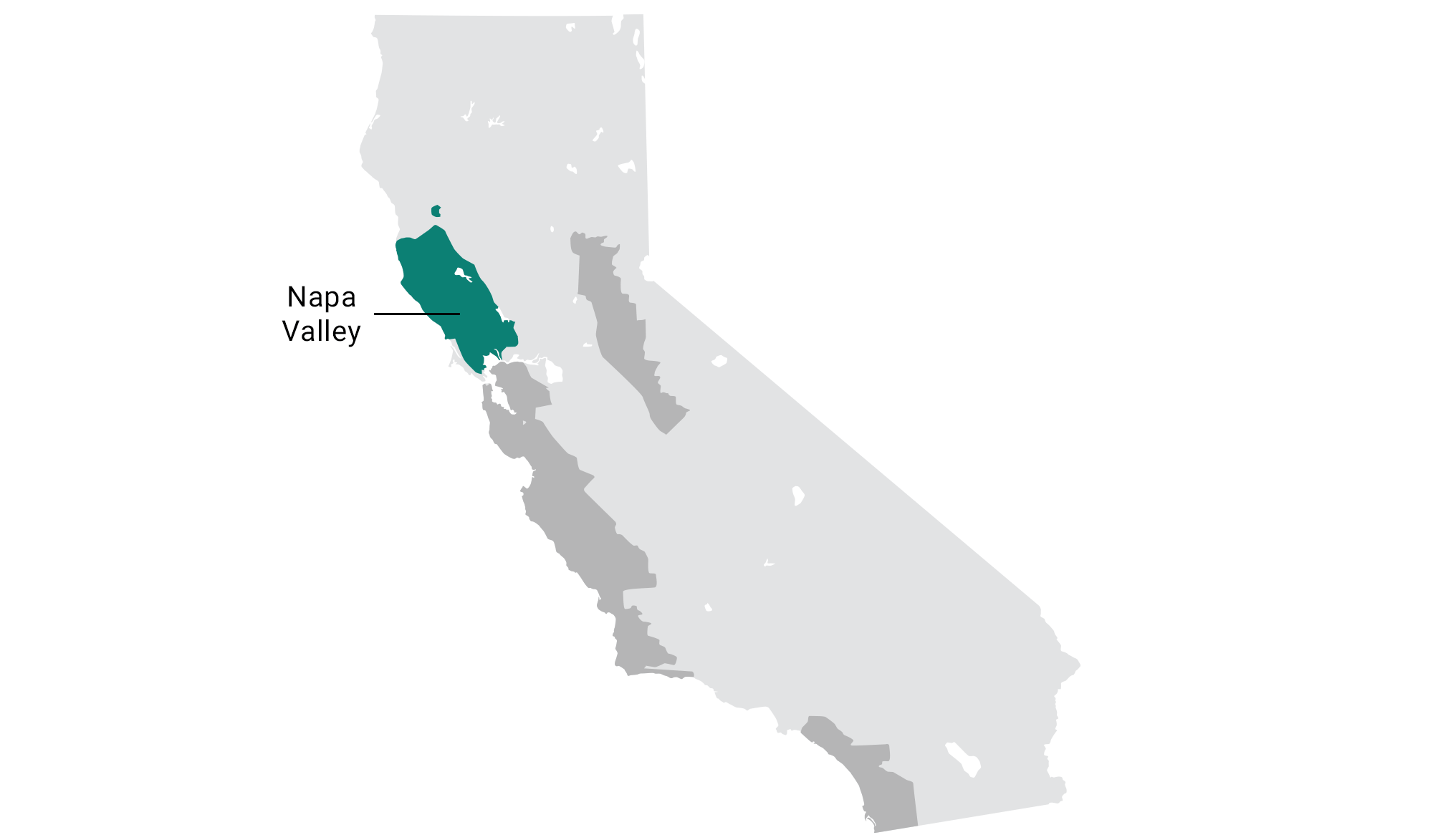 Sonoma & Napa Valley Cabernets to try 
Want to know more about Sonoma and Napa Valley Cabernet Sauvignon? We think the best way to learn is through tasting. Here are a few of our favorites to begin your exploration.
Other notable regions
Beyond Bordeaux and California, Cabernet Sauvignon is grown throughout the world, including Chile, Australia, South Africa, Italy, Spain, and Argentina.
Pairing food & wine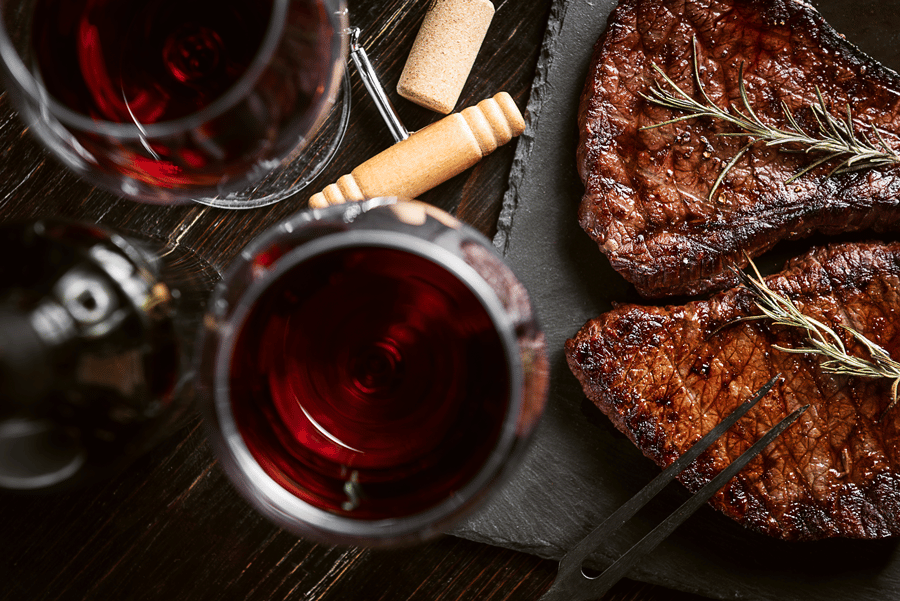 Cabernet Sauvignon has a bold flavor profile with a balance of fruit, alcohol, tannin, and acidity. These characteristics make it perfect for pairing with flavorful, rich food. We recommend enjoying Cabernet with grilled steak, lamb, hearty pasta dishes, grilled mushrooms, and aged cheeses.
Recommended food pairings

How to store, serve, & enjoy
Most red wines, including Cabernet Sauvignon, benefit from being served at a slightly chilled temperature — around 60° to 65°. The best way to achieve this temperature is to place the bottle in your refrigerator for 20 minutes before uncorking.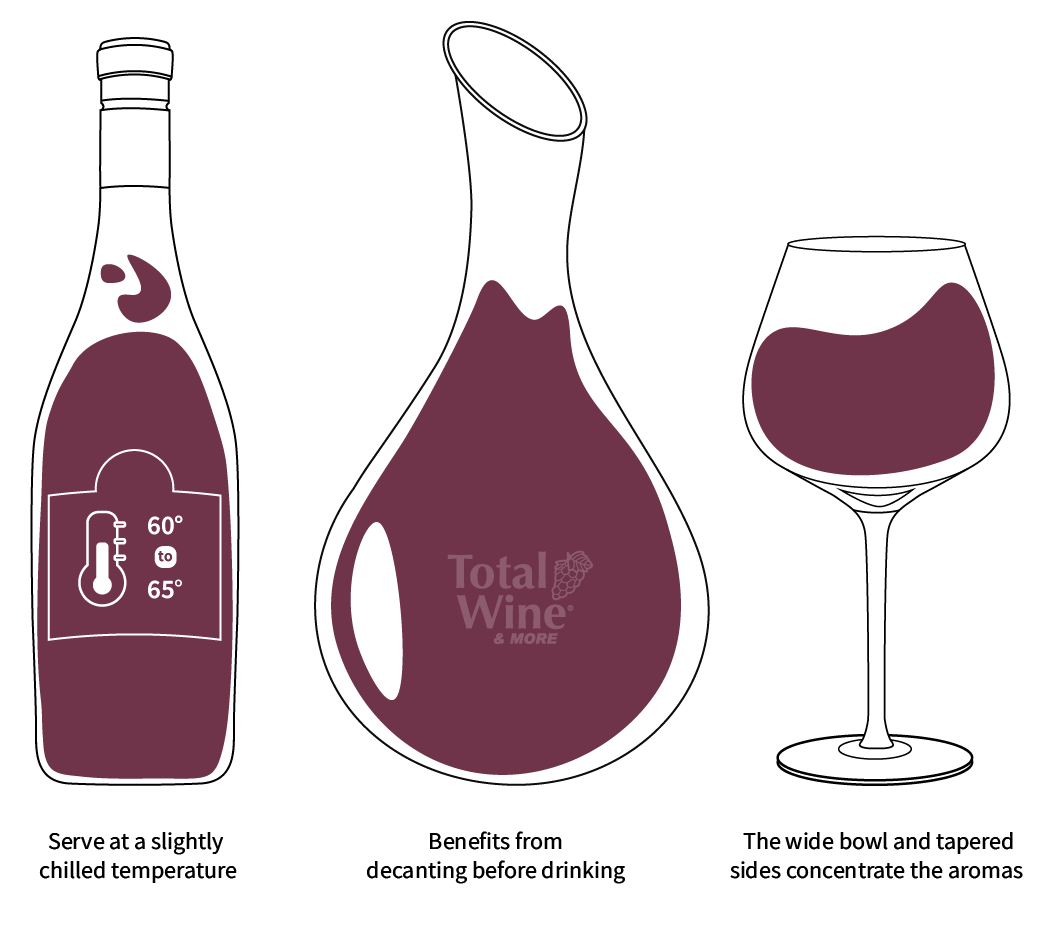 When choosing a wine glass for Cabernet, go with a glass with a large bowl that tapers at the top. The wide bowl and tapered sides concentrate the aromas. 
​Like other bold red wines, Cabernet Sauvignon also benefits from decanting before drinking. Decanting allows the wine to open up as it comes in contact with oxygen for the first time since it was bottled. With just a little time, the aromas and fruit flavors become more pronounced. 
​Once the bottle is uncorked, the best way to store any remaining wine in your bottle is in your refrigerator. It will last around four to five days.