You'd be hard-pressed to find a restaurant without Pinot Grigio on the menu. Pinot Grigio (pronounced pee-noh GREE-zhee-oh) is one of the most popular wines in the U.S. While most people know this wine by its Italian name, this winemaking grape originated in France where it is known as Pinot Gris (pee-noh GREE). Refreshing and zesty, Pinot Grigio is the perfect accompaniment served ice cold on a hot day.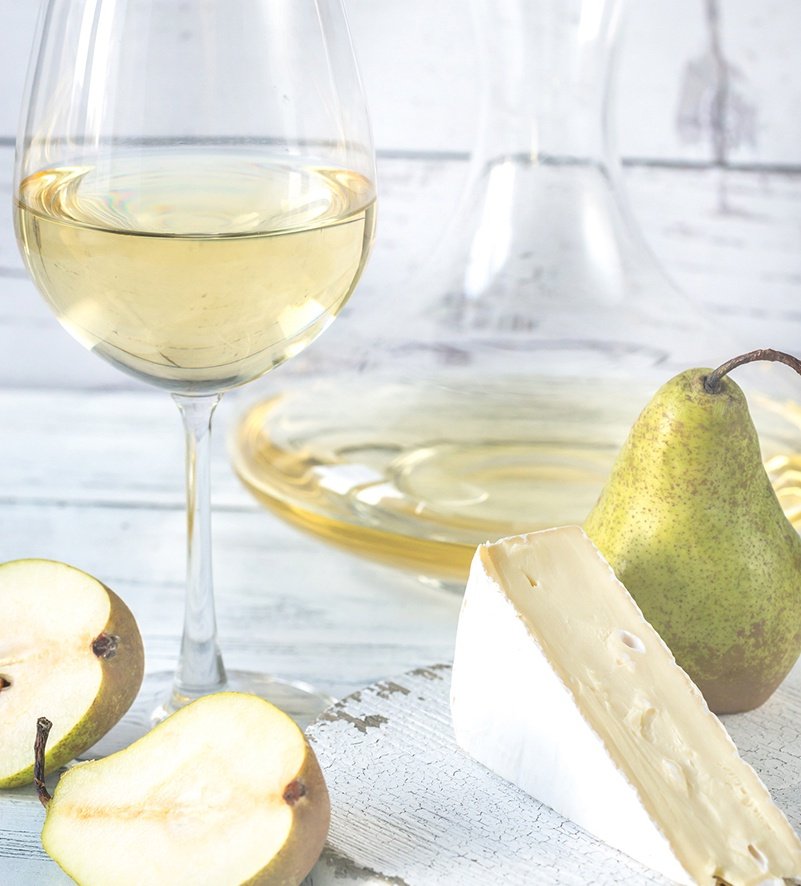 4 facts you should know
"Gris" in French means, gray, describing the blueish-gray skin of the grape

Pinot Gris and Pinot Grigio are the same grape!

It is thought to be a wild mutation of another famous grape — Pinot Noir

This grape has even more names: Grauburgunder (Austria) and Ruländer (Germany)
Color

Tasting profile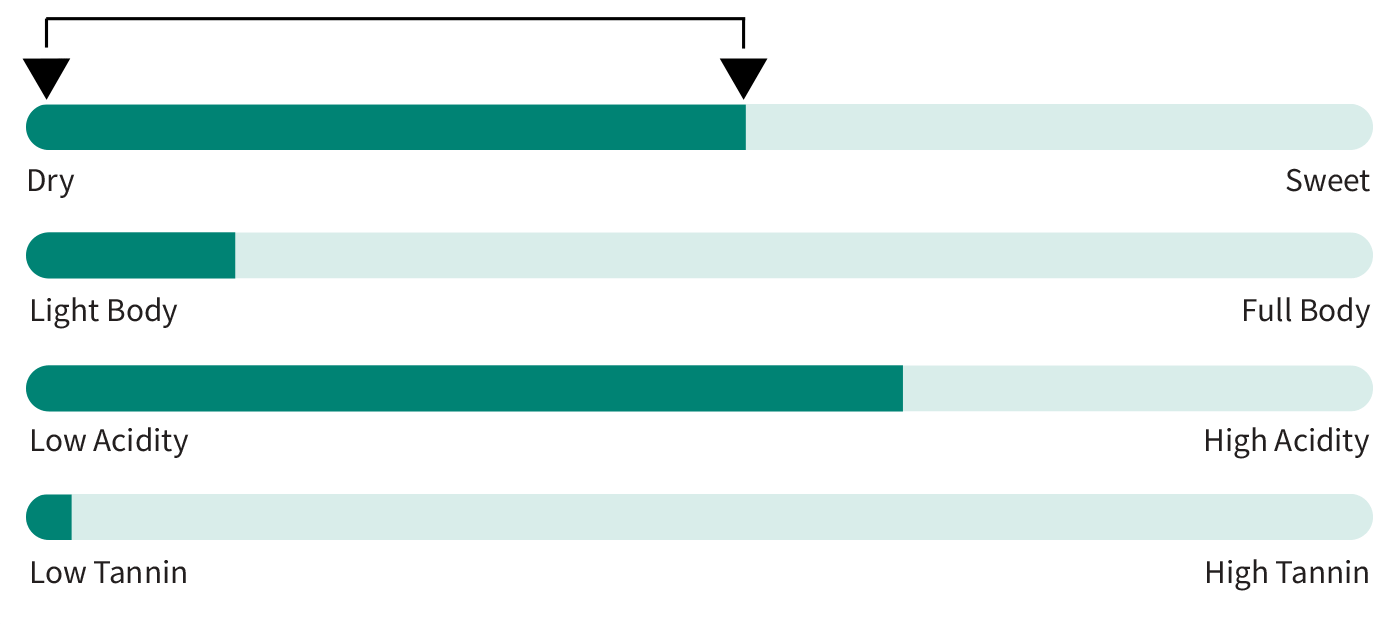 If you are looking for a fresh, light, crisp-tasting wine, then Pinot Grigio is the wine for you. Like many wines, where the grapes are grown has an impact on the final wine.
Italian grapes tend to produce wines that are lighter, brighter, and higher in acid than their French counterpart. Pinot Gris from Alsace, France, can be anywhere from dry to medium sweet with more body and medium acidity.
Pinot Grigio or Gris produced in the U.S. tends to be the most fruity style, but still dry with less acid than Italian wines.
Primary flavors

The region, climate, and weather play a key role in the flavors of this wine. Generally, most Pinot Grigio has flavors of lemon, melon, peach, and apple. It is not as aromatic as a Sauvignon Blanc but still has zesty, fruity aromas.
Italian Pinot Grigio often has more mineral notes and can have subtle almond flavor, whereas French Pinot Gris can develop richer honey flavors from botrytis (noble rot).  
The wine is usually aged and stored in stainless steel tanks versus oak, so you will not get the vanilla or coconut flavors you may find in wines like Chardonnay. Winemakers do this to maintain the fresh fruity flavors and acidity of the wine.
Key winemaking regions
The Pinot Gris grape is thought to be a wild mutation of another well-known grape, Pinot Noir. While Pinot Grigio, or Gris, grapes produce a very light white wine, the skins of the ripe grapes are a blueish-gray color versus the usual golden-green color of most white wine grapes.
Pinot Grigio grows well in moderate to cool climates, most notably Northern Italy and France. It also grows well in Germany and Austria and in the U.S. in California, Oregon, and Washington. We'll dive into each of these key wine-growing regions below.
France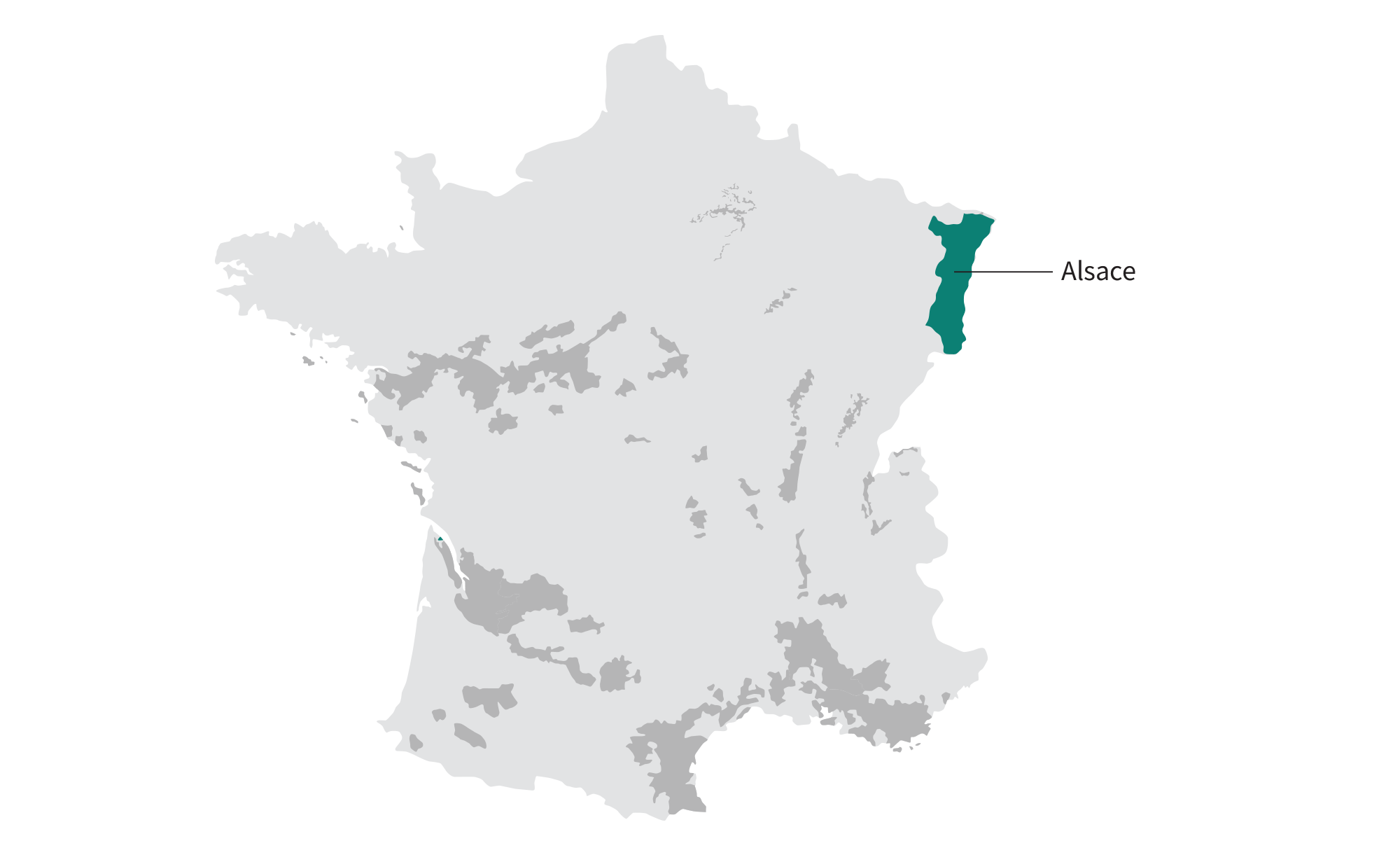 Known as Pinot Gris, France is home to this well-loved grape. As we mentioned earlier, Pinot Gris is thought to have mutated from Pinot Noir in Burgundy.
Today, you'll find most French Pinot Gris is from the Alsace region. Wines from Alsace can range from bone dry to sweet depending on when they are harvested.
Late harvest grapes are often allowed to go through noble rot or botrytis. This beneficial fungus concentrates the flavors in the grape allowing winemakers to produce richer, fuller-bodied sweet wines.
Italy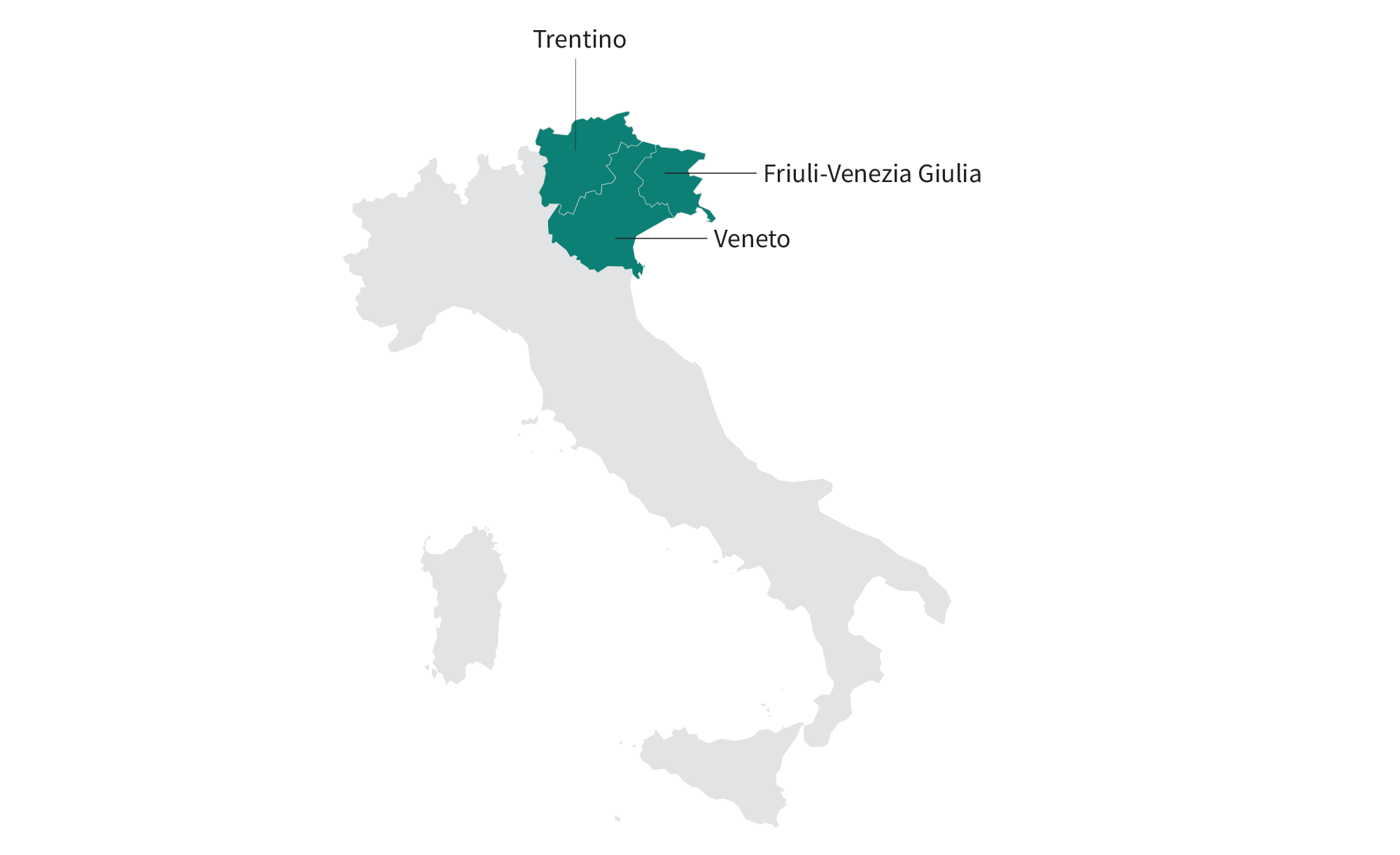 Pinot Grigio is the Italian name of this grape and is grown in northeastern Italy in the regions of Veneto, Trentino-Alto Adige, and most notably Friuli-Venezia Giulia.
Clean and crisp, Italian Pinot Grigio is higher in acid with aromas and flavors of lemon, lime, and green apple. Grapes are harvested early to maintain higher acidity and lower sugar to create a vibrant dry wine.
United States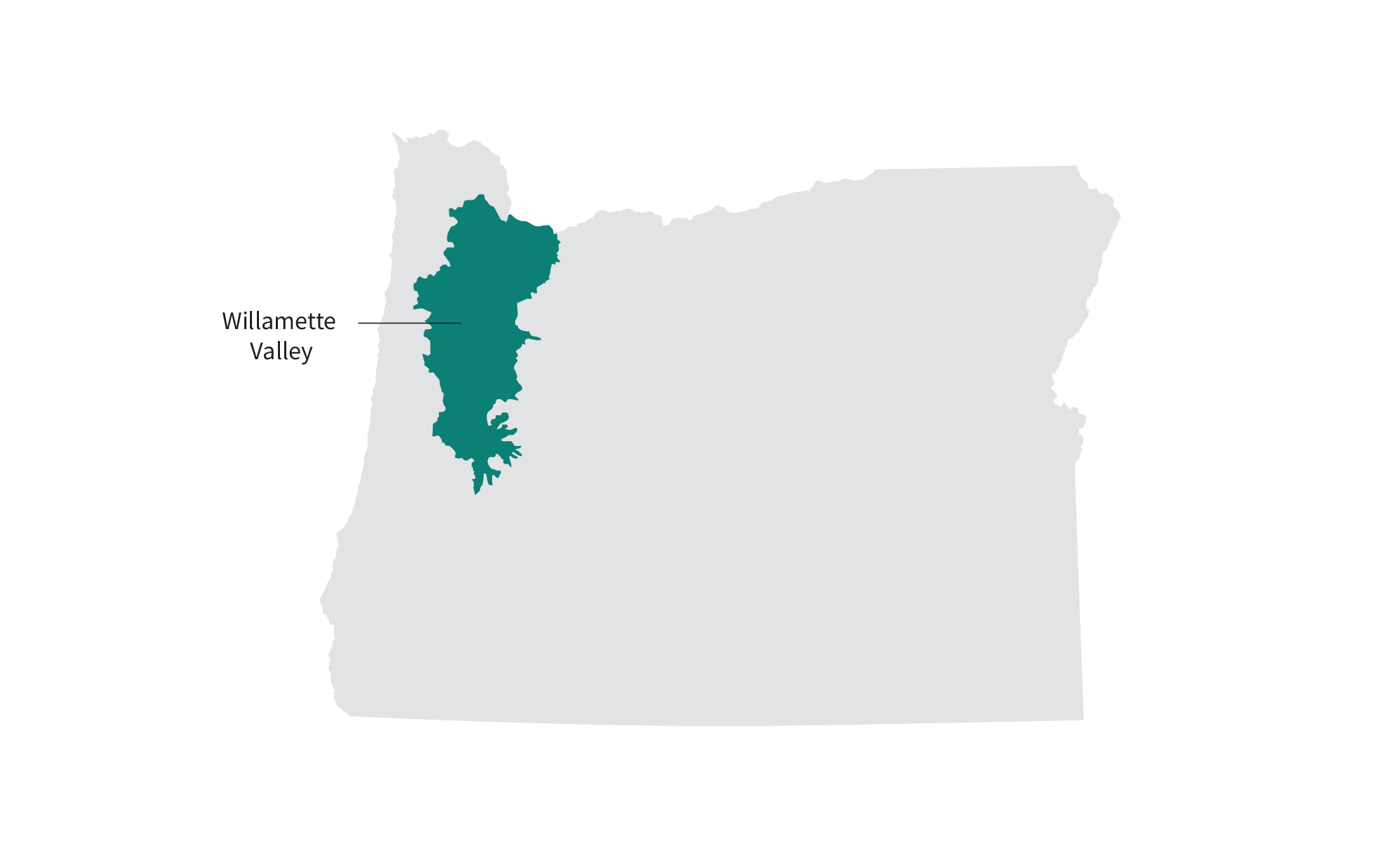 In the U.S., you'll find Pinot Grigio, or Gris, from California, Oregon, and Washington State. The cooler climate of the northwest allows winemakers to grow this grape and maintain the beloved acidity. Most notable are the wines from the Willamette Valley in Oregon, which tend to be dry with peach, pear, and citrus flavors
Other winemaking regions/h3>
Beyond France, Italy, and the U.S., Pinot Grigio is grown in the cool climates of Germany and Austria where it is known as Ruländer and Grauburgunder. You can also find wines from Australia, New Zealand, and South Africa.
Pairing food & wine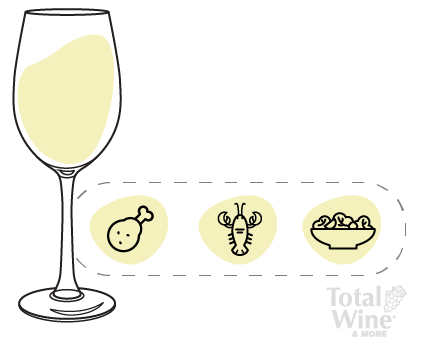 On a hot summer day, or any day of the year, a cold glass of Pinot Grigio makes the perfect pairing to a variety of foods. The refreshing acidity complements lighter dishes like fresh salads, raw seafood, and mild cheese. It is also an excellent wine to pair with Italian cuisine, including fried calamari, antipasto, Caprese salad, and tomato-based pasta dishes.  
When choosing a dish to pair with your favorite Pinot Gris, remember to consider the intensity of the food in comparison to your wine. Choose a dish that's flavors do not completely overwhelm your palate so you cannot taste your wine.
How to store, serve, & enjoy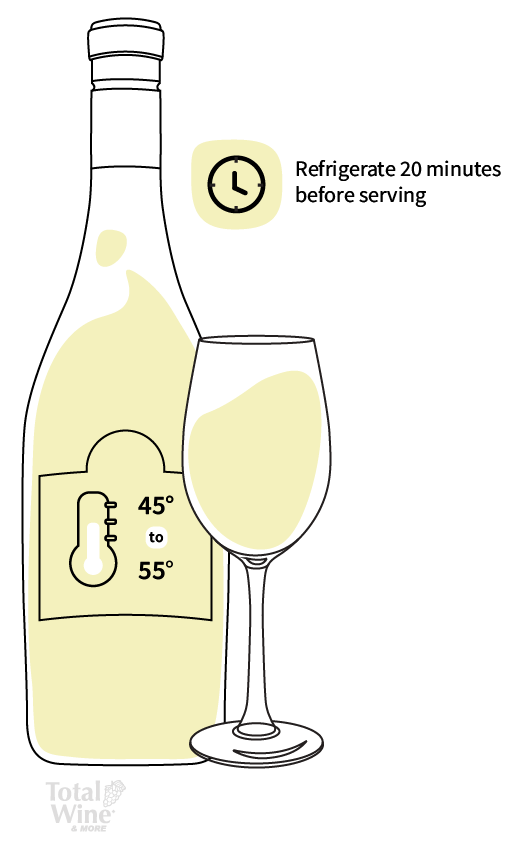 Pinot Grigio, like most white wines, should be served between 45º and 55º Fahrenheit. To get your wine to the right temperature, chill it in your refrigerator and remove it about 20 minutes before you plan to serve it. No need to decant this wine – just open, pour, and enjoy.
A standard white wine glass is all you'll need for your favorite Pinot Gris. A slightly wider bowl with a narrower opening helps to keep aromas in the glass so you can enjoy them with each sip.
If you have any leftover wine you want to store, put a stopper in the bottle and keep it in your refrigerator for up to four or five days.
More white grape varietals