How would you describe Sauvignon Blanc? Pronounced so-vin-YON blank, this white grape varietal produces one of the most popular white wines in the world. It's grown almost everywhere wine is produced and ranges in style from crisp and citrus-forward to rich and tropical fruit-driven. However, almost all styles of Sauvignon Blanc share mouthwatering acidity, food-friendliness, and great value.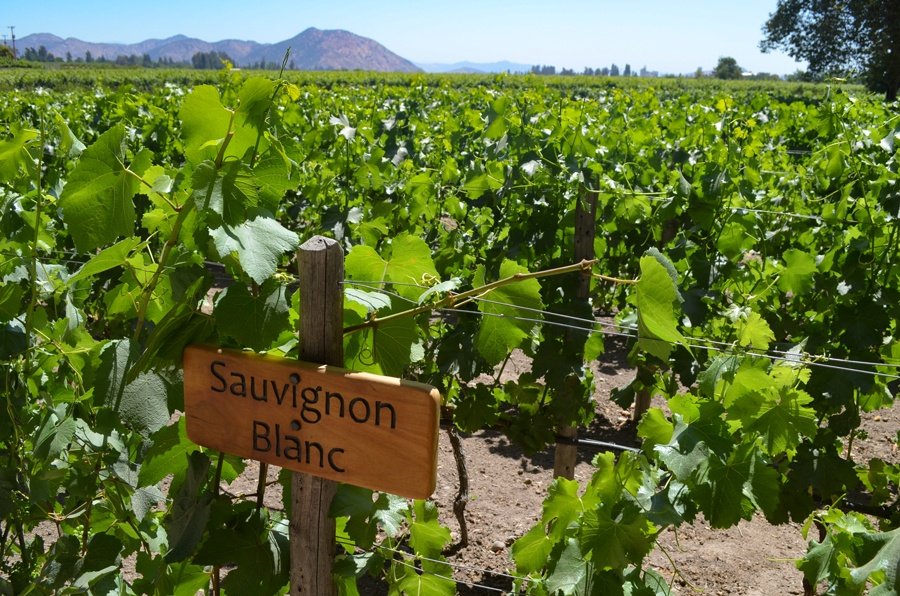 3 facts you should know 
The name Sauvignon Blanc comes from the French word "sauvage" meaning wild because the grapes grew like weeds throughout Bordeaux. 

It is related to Cabernet Sauvignon — a spontaneous cross between Sauvignon Blanc and Cabernet Franc. 

Methoxypyrazines are a compound found in bell peppers and what gives Sauv Blanc strong herbaceous flavors
Color

Tasting profile

Like many wine varietals, Sauvignon Blanc taste and aroma can vary depending on where it is grown. Generally, Sauv Blanc is a dry, light-bodied white wine. It is sometimes confused as being a sweet wine because of the powerful fruit aromas and flavors.
Sauvignon Blanc is also known for having very high acidity that causes your mouth to water. The high acidity makes it great for pairing with salty foods.  
You'll also find Sauv Blanc in white wine blends such as dry White Bordeaux and sweet Sauternes. Learn more about these two famous wines in our Bordeaux Wine Guide.
Primary flavors

Flavors can range from citrus to tropical including gooseberry, grapefruit, passionfruit, and white peach. Herbaceous and vegetal aromas are also distinctive qualities of Sauvignon Blanc — you'll often smell notes of fresh-cut grass, asparagus, and green bell pepper.
​Sauvignon Blanc wines are sometimes aged in oak but many winemakers choose to age them in steel tanks so that they retain fresh fruit and minerality.  
​If you're a fan of Chardonnay, try a Sauv Blanc from California — a style with riper fruit flavors and sometimes aged in oak. If you prefer crisp, fresh fruit flavors like in a Pinot Grigio, look for Sauvignon Blanc wines from France or New Zealand. 
Key winemaking regions
France
Like many grape varietals, Sauvignon Blanc originated in France — specifically Bordeaux. From France, it made its way to New Zealand, Chile, the United States, and beyond. It can now be found across the globe in almost every winemaking country.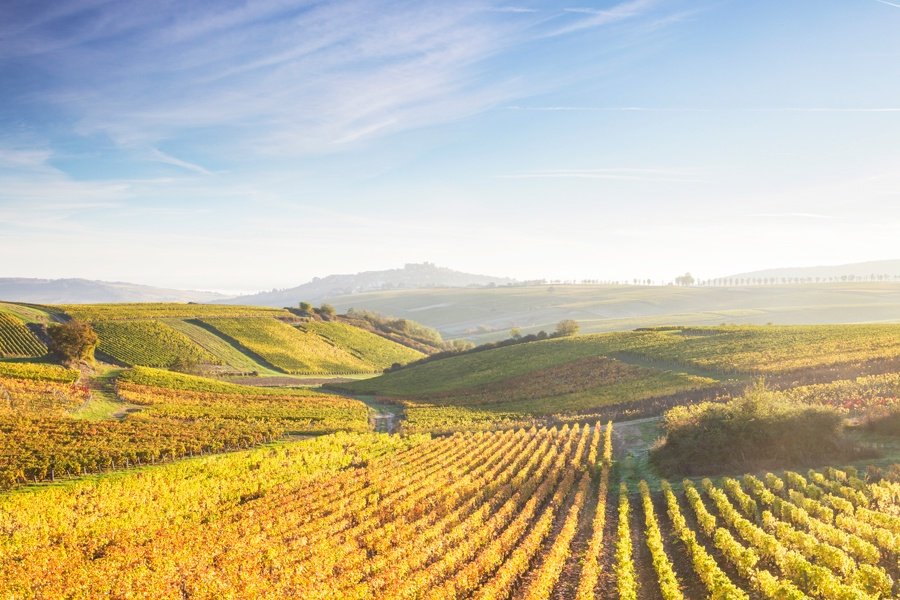 Bordeaux
Bordeaux Blanc, or White Bordeaux, is the primary white wine from the region. It combines Sauvignon Blanc plus two other white grapes, Semillon and Muscadelle. These white wine blends range from dry to sweet and vary in their aromas and fruit flavors.
​There are two primary styles of dry White Bordeaux Blends. The majority are fresh and fruit-forward with flavors of grapefruit, lime, gooseberry, and minerals. The second style is fuller-bodied and creamy — aged in oak barrels or on the lees (dead yeast) results in a wine that can mature in the bottle for many years. The Pessac Léognan appellation in particular produces some of the most renowned White Bordeaux blends. 
​On the sweet end of the spectrum, you will find the famous French wine, Sauternes. Sauvignon Blanc grapes are allowed to become infected with a fungus called Botrytis cinerea, which concentrates the sugars and flavors in the grape. The result is a sweet wine with honey, apricot, and vanilla notes.
Loire Valley 
Another famous region of France where you will find Sauvignon Blanc is in the Loire Valley. This northwestern region of France has a cooler climate and soils rich in flint and limestone that produce wines with more mineral, herbal, and crisp flavors. 
Two famous appellations in the Loire Valley are Sancerre and Pouilly-Fumé. White wines from these regions must be made from 100% Sauvignon Blanc grapes. They are rarely aged in oak and are best drunk young while they are still vibrant and fresh.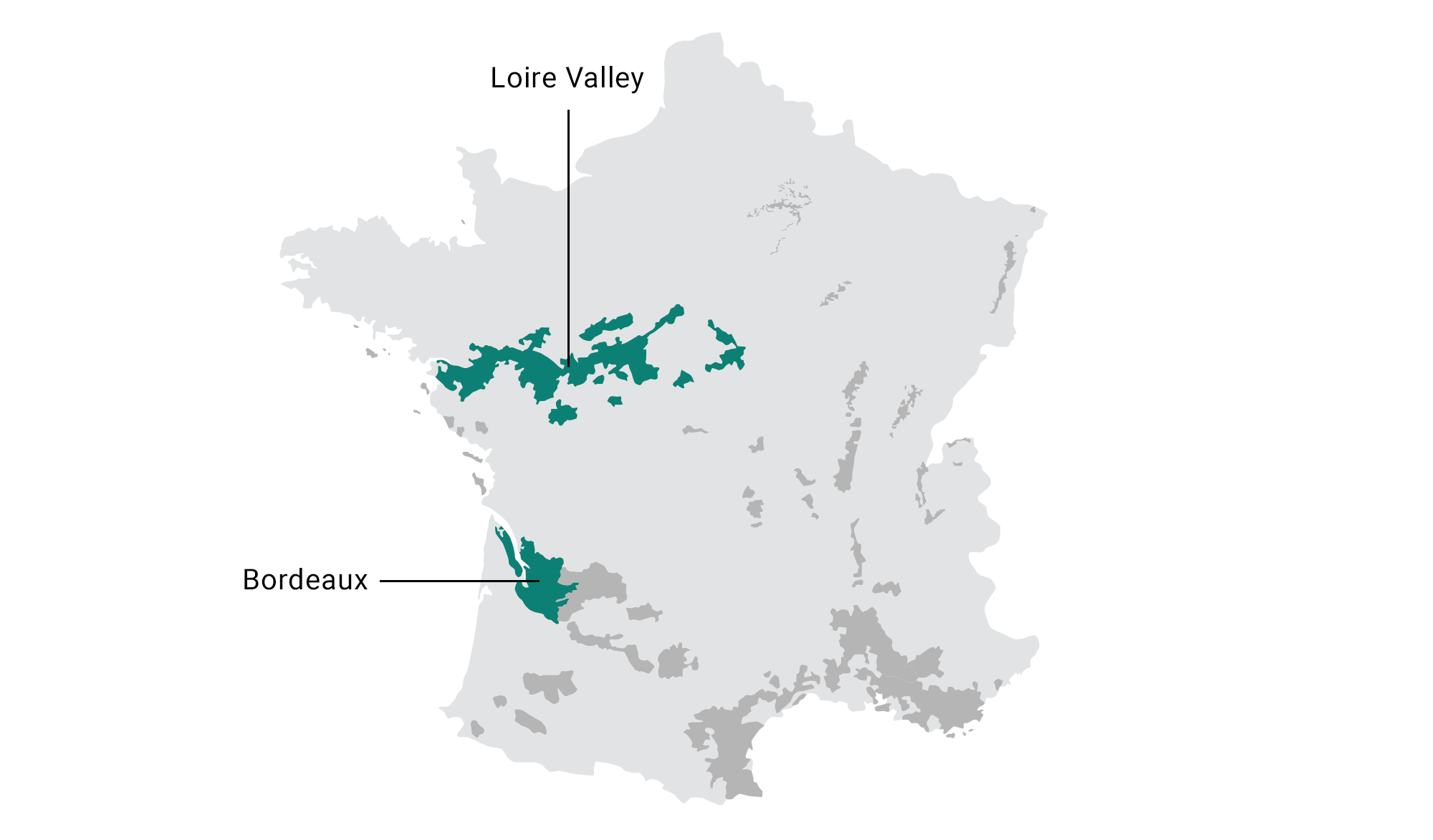 New Zealand
New Zealand Sauvignon Blanc has been on the map since the 1970s. The moderate to cool climate paired with lots of sun for ripening make it an ideal place to grow this white grape. Sauv Blanc from New Zealand is often high in acidity with aromas of lemon, peach, and passion fruit, as well as green bell pepper.  
Marlborough is probably the most famous region and is known for its fruit-forward, high-acid wines. You probably know some famous brands from this region, including Cloudy Bay, Kim Crawford, and Whitehaven.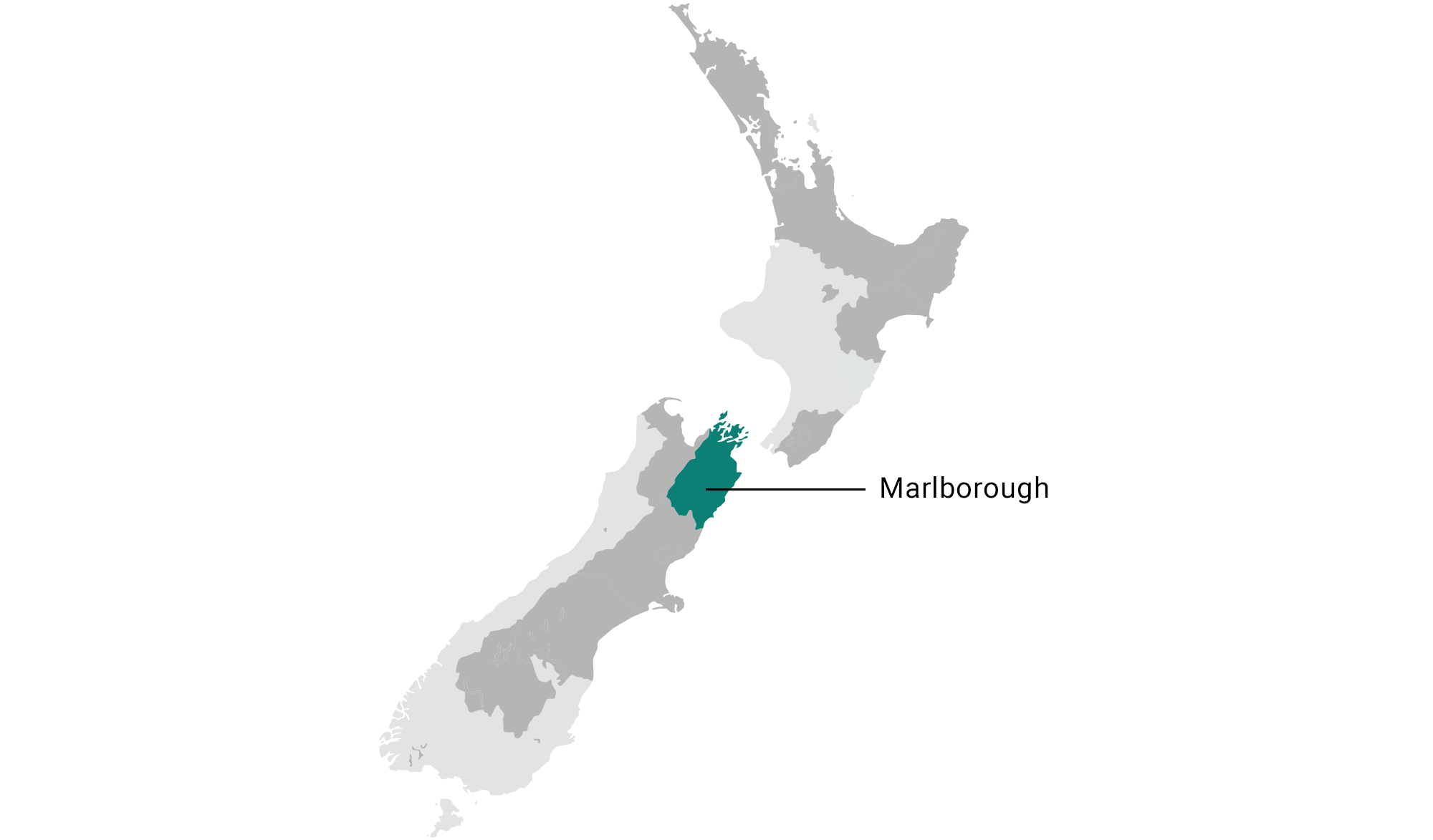 United States
Most of California is too warm to produce Sauvignon Blanc with the same crisp, fresh quality of France and New Zealand. However, areas of the North Coast, including Sonoma and Napa Valley, with cooler temperatures from the Pacific Ocean produce delicious riper styles of Sauvignon Blanc.
​Some winemakers blend the Sauv Blanc grapes with Semillion to create a White Bordeaux style wine or they may choose to age the wine in new oak to add additional flavors like vanilla.
Other
Beyond France, New Zealand, and the U.S., Sauvignon Blanc wines are produced around the world in almost every moderate climate winemaking country. You can find delicious examples from Australia, Chile, South Africa, Austria, and more. As with many wines, the climate, soil, weather, and other growing factors impact the result, producing a wide range of styles but all from the same grape. 
Pairing food & Sauvignon Blanc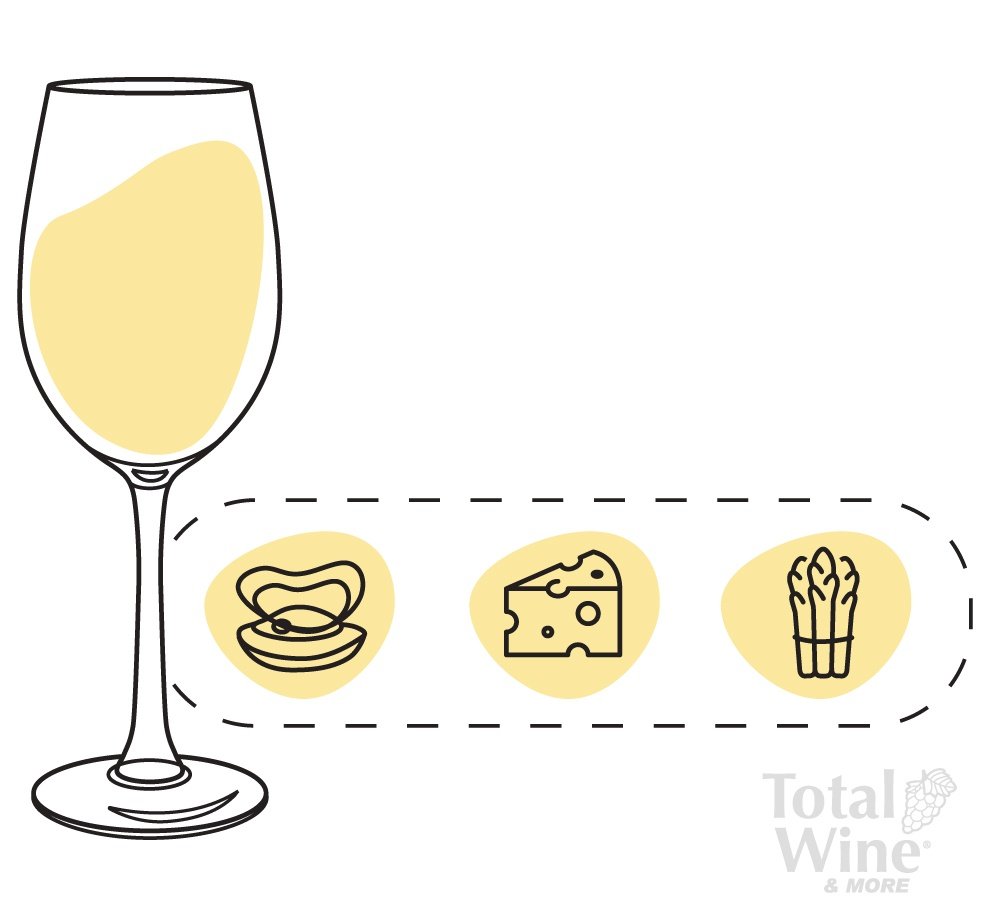 High acidity and fresh fruit flavors make Sauvignon Blanc the perfect wine for pairing with almost any food. Classic pairings for Sauv Blanc include fish and seafood, salty cheese, and Asian cuisine, like Thai. 
Lighter, mineral styles like Sancerre are best accompanied by oysters, light white fish like cod, and goat cheese. Bolder, herbaceous Sauvignon Blanc, like from New Zealand, go with herbs, vegetables, and light meats, including chicken and pork.  
When deciding what style of Sauvignon Blanc to pair with your food consider the flavor intensity of the food in comparison to the wine — you don't want to overpower the flavors on your plate with your wine.
How to store, serve, & enjoy
Most white wines, including Sauvignon Blanc, should be served between 45º to 55º Fahrenheit. Chill your wine in your refrigerator and bring it out about 20 to 30 minutes before you pour to let it come up to temperature. Unlike most red wines, Sauv Blanc does not need to be decanted. Simply open, pour into your wine glass, and enjoy!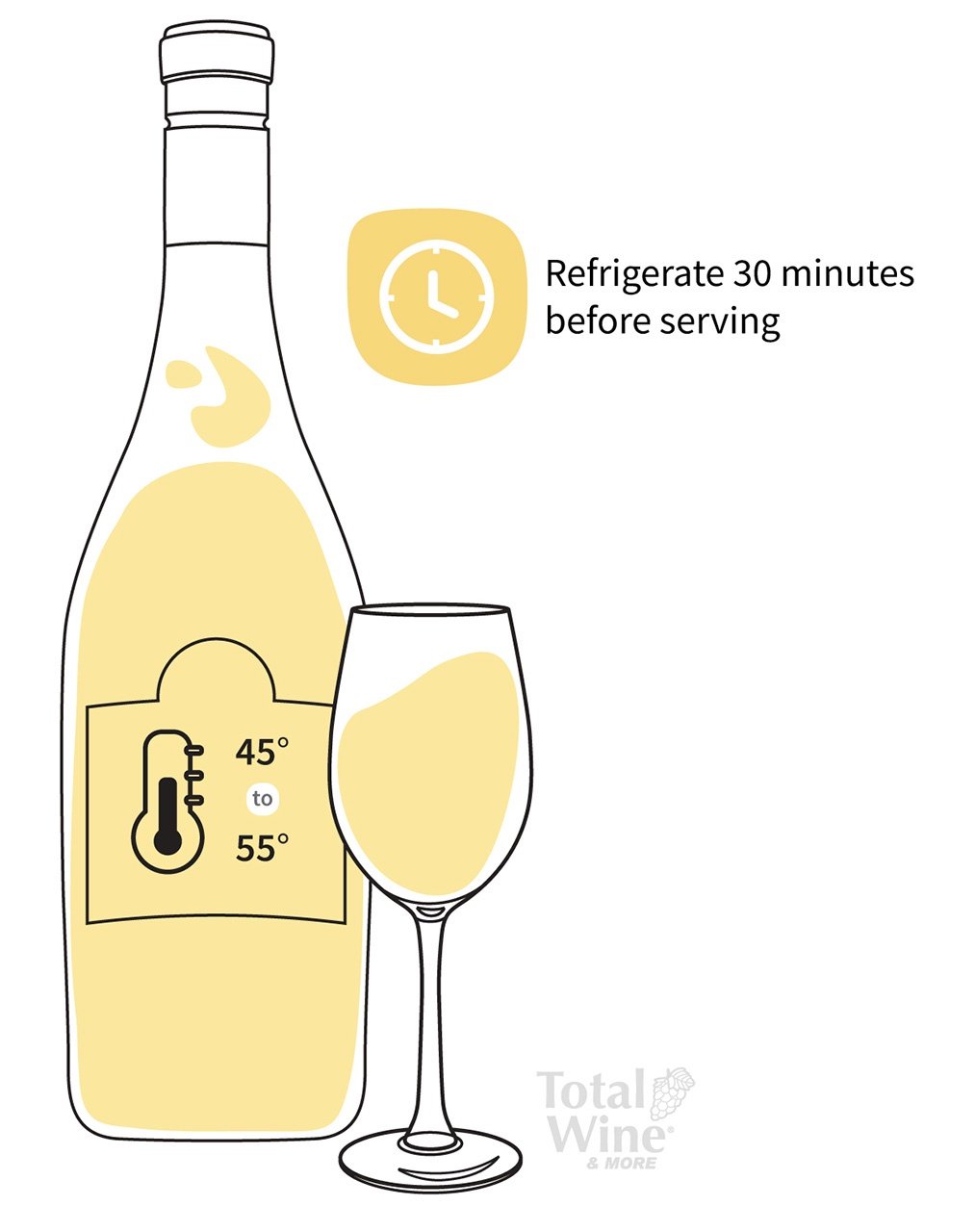 When choosing a wine glass for Sauvignon Blanc, a standard white wine glass with a wider bowl than opening will help keep the aromas in the glass so you can smell them as you take a sip of wine.
​Once you open your bottle of wine, the best way to store any remaining wine is in your refrigerator. It can last for four to five days.
More white grape varietals