Would you like your guests to savor a fine selection of craft brews, paired with gourmet fare? Check out our incredible selection of microbrews, craft beers and seasonal and imported beers. Or is your mission just to roll out a keg of everyone's favorite beer, and keep it coming for all four quarters? Shop with us for a full menu of popular national brands and imports, in bottles, cans, cases and kegs. If you can't find a beer, let us know, and we may be able to order it for you.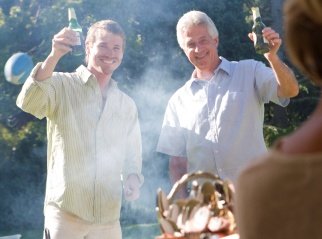 Craft beers and imported beers
When flavor is important, when serving something hand-crafted is important, when you want to buy a beer made locally, consider serving American craft beers. These include the immensely popular IPA (India Pale Ale), seasonal beers perfect for holiday-themed parties and appetizing ales to showcase with food pairings. Consider imported beers to complement the cuisine you're serving, to explore the world's great beer-making regions, or to celebrate the heritage of the hosts or guests.
Serving beer outdoors
Having your party outdoors? Follow these steps to ensure a great time and the best beer experience:
Keep beer out of direct sunlight, even when it's on ice. Sunlight can interact with the hops in beer and cause a "skunky" aroma. For best results, set up a covered cooler in shaded area.
What's the weather report? Consider the season and temperature when selecting beer styles for the party. On a hot summer day, for example, guests will likely prefer crisp and light brews instead of full-bodied, dark styles.
Have a recycling bin handy at your beer station for empty bottles and cans.
Beer tastes best out of a glass, so it's worth the extra effort to have glasses available for all. Provide plastic cups in public spaces where glassware may be prohibited.
Kegs for parties
Kegs are perfect for a party with many beer lovers in attendance. Your local Total Wine & More store has a walk-in, self-serve keg cooler where you'll find an "always-in-stock" selection of keg beer (brands vary by market), and kegs in a variety of sizes to suit your needs and budget. Don't see a beer you want? We may be able to take a special order. If our distributor carries it, we'll get it for you, at Total Wine's low pricing. Call your local store to ask about a special order. Allow two weeks for delivery of your special-order keg.
Keg types
Kegs come in four common sizes:
Sixth (5.2 gallons/2.5 cases/53 servings)
Quarter Barrel (7.75 gallons/3.5 cases/ 82 servings)
Slim Quarter (7.75 gallons/3.5 cases/82 servings)
Half Barrel (15.5 gallons/7 cases/164 servings)
We offer taps and tubs for a nominal rental fee. We've got glassware and plastic cups. And don't forget the ice!
Enjoy responsibly
As you plan for wine, spirits and beer at your party, be sure to have plenty of water, soft drinks and non-alcoholic beverages for your guests. Make sure everyone who's drinking has food to eat, and that no-one who is drinking will be driving.