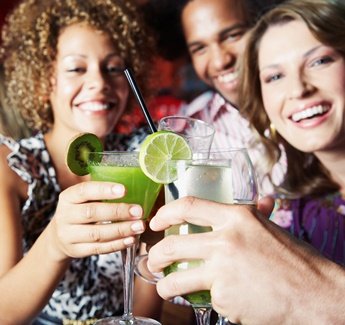 Your bar will be the center of attention at your party. So whether you have a full-on man cave to work with, or just a little extra room on the kitchen counter, let's make sure you have the best bar setup for party drinks: the right collection of spirits and mixers plus shakers, accessories, glassware and plenty of ice. A well-stocked bar helps set the mood for a fun party, and makes the host's job that much easier.
How much?
There are three common bottle sizes for spirits. Knowing how many standard 1.5-oz pours are in each bottle will help you plan an accurate count. All numbers are approximate.
750 mL (one "fifth") = 15 servings
Quart = 20 servings
1.75 L = 35 servings
Shop for spirits and order today for in-store pickup.
Enjoy responsibly
As you plan for wine, spirits and beer at your party, be sure to have plenty of water, soft drinks and non-alcoholic beverages for your guests. Make sure everyone who's drinking has food to eat, and that no-one who is drinking will be driving.
Planning the cocktail menu
Why not offer a "signature cocktail" at your event? Select a drink to match the theme of the event – featuring a fresh, seasonal or holiday ingredient or complementing your party's color scheme. Check out our cocktail recipes for ideas.
Want to offer a full bar?
Total Wine & More offers more than 3,000 different types of spirits and mixers. Let's look at the essential spirits, mixers and garnishes you'll want to have ready for party drinks.