Cacti Agave Spiked Seltzer
9-12oz Can
Missouri- Hard Seltzer- 7.0% ABV. Introducing CACTI: A 7% ABV Agave Spiked Seltzer made with 100% premium blue agave from Mexico and natural flavors for a refreshing and bold taste.
Cacti Agave Spiked Seltzer
9-12oz Can
Limited Quantity
Sacramento (Arden)
Backwall
Available
Confirm your address to check eligibility.
Beer is not eligible for shipping to California.
*Price, vintage and availability may vary by store.
Producer Story
Producer Story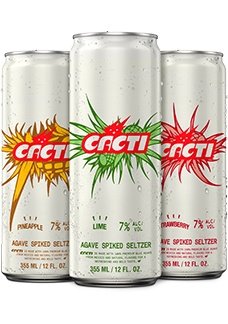 CACTI Agave Spiked Seltzer
A meteor from Utopia crashed down onto the agave fields of Mexico creating a unique blend of celestial stardust and Mexican agriculture. Discovered by renowned explorer TRAVIS SCOTT, a refreshing and bold new blend was crafted.
CACTI takes heavy influence from its intergalactic roots by using 100% premium blue agave from Mexico to craft a bolder, more refreshing seltzer with down to Earth ingredients and out-of-this-world flavor.
It will be landing on March 15 in three flavors—Strawberry, Lime, and Pineapple—to cater to the different tastebuds us Earthlings are known to have. CACTI variety packs will feature nine, 12-oz cans, while individual flavors will come in 16-oz or 25-oz versions.