BlueWing Vineyards Cabernet Sauvignon Sonoma
750ml
Sonoma County, CA- From the makers of Rodney Strong, this elegant cabernet has aromas of cherry and dark berries with smooth tannins and a spicy oak finished. Pairs perfectly with hard cheeses, meats and grilled vegetables.
TASTE
Dark Berry, Cherry, Oak
BlueWing Vineyards Cabernet Sauvignon Sonoma
750ml
In Stock
Sacramento (Arden)
Aisle 06, Right
Available
Confirm your address to check eligibility.
*Price, vintage and availability may vary by store.
OVERVIEW
Producer Story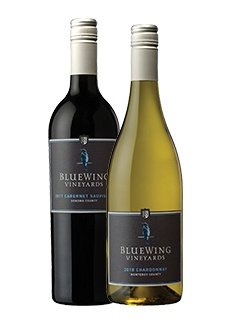 In 1959, Winemaker Rodney Strong put down roots in Sonoma County and began the brand we know today as Rodney Strong Vineyards. His first career was as a celebrated American dancer who worked in places like New York and Paris. Rod knew that he needed to find his next career and had an interest in winemaking. It was in Sonoma County where he pioneered the creation of AVAs and began to build the brand. He was the first to plant Chardonnay in Chalk Hill AVA, was one of the first to plant Pinot Noir in the Russian River Valley. He released the first ever single vineyard Cabernet from Alexander Valley. With all this history, renowned Winemaker Rick Sayre joined him in 1979 and has been with the company ever since, helping the wines to grow and evolve.

In 1989, Tom Klein and his family purchased the winery from Rodney Strong. Over time, Tom updated the winery and vineyards and built new innovative winemaking facilities like an artisan cellar and a new square tank cellar. With the addition of Justin Seidenfeld, the Head Winemaker, the innovation and evolution of Rodney Strong Vineyards has continued to the next level. He is the next generation that has helped the wines and company evolve to a new level of exceptional quality in winemaking and winegrowing. With that has come new brands and innovation like the BlueWing Vineyards brand.

Driven by a belief in creating the best wines from the best areas of California, BlueWing Vineyards was born. This brand is a nod to the Bluebird boxes placed on the vineyards to help support a sustainable ecosystem and to maintain the lands for future generations. Justin crafted these wines from two special locations—Monterey and Sonoma Counties. These cooler climate regions allowed for the perfect ripening of grapes and each has its own unique characteristics. The Chardonnay from Monterey opens with luscious flavors of citrus, vanilla and pineapple, with a smooth yet bright texture and balanced acidity that finishes with lingering notes of tropical fruits. The Cabernet Sauvignon, which is predominantly from the North Coast, has aromas of cherries and dark berries with a medium body that's full of smooth tannins followed by a finish of blue fruits and toasted oak.
Geography
Wine grapes have been planted in Sonoma County since the first European settlers arrived. In 1812, Russian immigrants began planting vines along the coast. In the 1820s, Spanish monks planted vines as they built their missions. In 1855, Hungarian Agoston Haraszthy founded Buena Vista, which bills itself as California's first premium winery, still in operation today.
Varietal / Type