Parcelica Chica Monastrell, 2019
750ml
James Suckling-Murcia, Spain - ""A very rich, juicy wine with the alcohol coming through, but there's plenty of blue fruit and polished, chewy tannins. Flavorful finish. New wood comes through. Yet, I like the opulence and the flavors here.""
Parcelica Chica Monastrell, 2019
750ml
In Stock
Sterling
Aisle 01, Left
Available
Confirm your address to check eligibility.
*Price, vintage and availability may vary by store.
OVERVIEW
Producer Story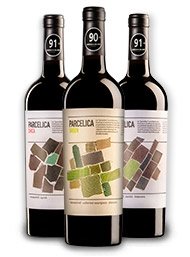 Parcelica
Bodegas Antonio Candela has been a family owned winery for four generations—that's over 95 years of winemaking! Each new generation has left their own, delicious mark on the winery, respecting tradition while also embracing innovation. The name Parcelica comes from a local expression for small family properties cultivated in the traditional way. The name together with the label are a homage to the first wines grown on the family's first plot decades ago.
This trio of wines are your new dinner companions! They're perfect with all sorts of entrees and cuisines. Spanish dishes are a perfect match, but that's not all—it's great with hearty foods like beef and veal. All three bottles earned scores in the 90s so you know what's inside that bottle is going to be incredible.
Geography
The wine regions of Northwest Spain include the lush corner of Galicia, known as "Green Spain." Galicia is bordered to the north and west by the Atlantic Ocean, which keeps the region cool and damp. Galicia is best known for the Rías Baixas DO, where the native white grape, Albariño, produces delicious and refreshing wines with floral aromas and mineral flavors.
Varietal / Type
Red grapes produce an amazing array of red wine types: from the boldest, heartiest big reds, to elegant and structured dry red wines, to sweet and simple picnic sippers. So much depends on where grapes are from and what the winemaker does with them, but the most important factor is the variety of the grape itself.
There are the familiar international red varieties – Cabernet Sauvignon, Pinot Noir, Merlot and more – produced in the world's top winemaking regions. Then there are regional red varieties, which produce types of red wine nearly synonymous with their place of origin, such as Sangiovese, from Italy, and Tempranillo, from Spain. There are hundreds more red grape varieties regularly used to make wine around the globe.
Most red wine varietals fare best in warmer climates, where they can ripen fully before harvesting. So climate and soil – as well as market demand – determine the best grape types to plant in a particular vineyard. In Europe, centuries of tradition, trial and error determined what wine grapes grew best where, and modern regulations have enshrined those winemaking practices into law.
Our red wine guide details the flavor profiles and regions of the most popular red varieties – plus a few you may not yet know. Use it as a road map for Total Wine & More's selection of more than 8,000 wines. You'll learn everything there is to know about your favorite red wines, and we're sure you'll find some new red wines to love.