California- Vibrant notes of raspberry, violet and sweet cake batter lift from the glass. The palate bursts with flavors of black raspberry jam, cocoa. This wine sports a lush mouthfeel with great texture beckoning this wine to accompany a variety of cuisine. Youthful acidity and chalky minerality are the backbone of this wine, while sweet oak tannins round out the finish.
Limited Quantity
Sacramento (Arden)
Aisle 04, Left
Available
Confirm your address to check eligibility.
*Price, vintage and availability may vary by store.
OVERVIEW
Geography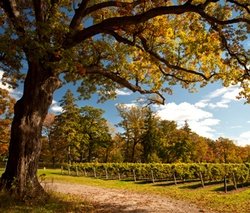 The California Central Coast appellation runs more than 250 miles along the Pacific Coast, spanning 10 counties and some 30 designated American Viticultural Areas (AVAs) from the San Francisco Bay to Santa Barbara County.
The sprawling California wine region covers a variety of microclimates and terrains, but they generally all share the cooling effect of the Pacific Ocean. This has a major impact on the growing conditions on the entire Central Coast, providing an agreeable setting for a wide range of grape varieties in this part of California wine country.
Varietal / Type
Zinfandel is one of the classic wines of California, where it has been popular since Gold Rush days. The red Zinfandel grape thrives in warm climate regions, most notably portions of the Central and Sonoma valleys. When fully ripe, Zinfandel grapes contain high amounts of sugar, which can be completely fermented to create a dry and fairly high-alcohol wine, or be left in part as a trace of residual sweetness.
Zinfandel wine made in the traditional fashion may be unoaked, easy-drinking and jammy, or oak-aged and full bodied. Old-vine versions can be particularly intense and rich. Expect flavors of black fruits and spice in all. The full flavors and bit of sweetness make Zinfandel a great match for grilled and barbecued meats, especially those cooked in sweet or tomato-based sauces.