La Petite Frog Picpoul
3L Box
Picpoul de Pinet, Languedoc, France- Le Petite Frog features a pale yellow color with hints of green. Fresh and delicate aromas of grapefruit, lime and exotic fruit linger on the palate; all hallmarks of Picpoul. Pairs well with oysters and seafood.
La Petite Frog Picpoul
3L Box
Limited Quantity
Sacramento (Arden)
Aisle 18, Left
Available
Confirm your address to check eligibility.
This item is not available for shipping to California
*Price, vintage and availability may vary by store.
OVERVIEW
Geography
For centuries, French wines have set standards to inspire winemakers around the world. No other country has France's long history of fine wine production, which has helped define wine styles around the world.
How significant is France in the world of wine? The most popular international grape varieties, from Chardonnay to Merlot to Cabernet Sauvignon, are native to France. In many years France produces (and consumes!) more wine than any other country. Its production and export of fine wines is unmatched.
The ancient Greeks were the first to take advantage of France's potential for wine production, as they planted vines in their colonies along the Mediterranean coastline more than 2,500 years ago. After the Romans conquered Gaul in 51 B.C., they took vines and winemaking practices north across the land. In the following centuries, Christian monasteries became centers for viticulture, and their monks made pioneering advances in both winemaking and distilling. By the Middle Ages, the English had already recognized the excellence of wines of France, and while they controlled Bordeaux they expanded the region's existing vineyards to supply the brand-new export market.
Varietal / Type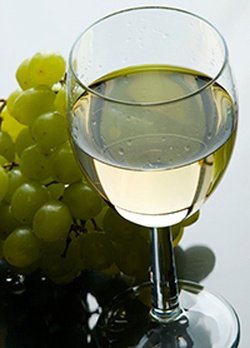 Every white wine grape variety can have myriad expressions, depending on where it is grown and how the winemaker chooses to style the wine. The same grape can produce both a dry white wine and a sweet white wine, one that's crisp and refreshing or honeyed and mellow.
Most wine drinkers know the popular international varieties, like Chardonnay, Riesling and Sauvignon Blanc, which are made into white wine in most of the world's winemaking regions. But there are hundreds more to discover. Think of the popularity of white wines like Pinot Grigio or Moscato, which only a few years ago were largely unknown to U.S. consumers.
Find the next big thing – or just a new wine to love – with a look at our white wine guide. Use it as a road map to Total Wine & More's selection of more than 8,000 wines. You'll discover more wines to enjoy, and more ways to enjoy them. Your knowledge of where they come from and how they're made will only enhance the experience.