Amici Pinot Noir Russian River Valley, 2018
750ml
James Suckling-Russian River Valley, California - ""A fruit-forward pinot with lots of bright strawberry and cherry aromas and flavors. It's full-bodied and layered with ripe, integrated tannins and lots of fruit at the finish.""
Amici Pinot Noir Russian River Valley, 2018
750ml
Limited quantities may be available in store. Not available for online purchase.
Sterling
*Price, vintage and availability may vary by store.
OVERVIEW
Producer Story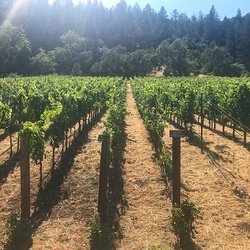 Amici was founded in 1990 by a group of friends – amici – focused on small-production Napa Valley wines they would enjoy for themselves. The wines were so successful the group quickly expanded their vision to produce wines they could share with the public.
More than 25 years in the making, Amici Cellars is a blend of the old and the new. Preserving its legacy and producing wines of exceptional character is the unwavering commitment of proprietors, John Harris, Bob and Celia Shepard, who attribute success in large part to the age-old adage "nothing replaces hard work," but also their intuition and ability to capture the most significant opportunity in a decisive moment.
Since the early days, they had been on the road, building relationships, meeting customers. They knew what the market could bear. All-in, a blend of their business acumen and ability to connect with people from growers and winemakers, to sommeliers and wine merchants, has proven successful with the winery seeing steady growth year-over-year. They have stayed the course, never faltering, never losing sight of their vision.
They have decidedly chosen a talented team, seasoned winemakers Tony Biagi, a Napa Valley veteran with more than 25-years-experience, and Jesse Fox, a rising star whose energy matches his true-to-varietal wines. Together they bring decades of relationships with outstanding growers in the field that, combined with their craftsmanship, creates the best possible capsule of each vineyard site, a combination of the soil, climate and people who farm it.
Geography
The Russian River Valley extends just south of the town of Healdsburg to the San Pablo Bay in the west. It has the coolest climate of all the regions in Sonoma because of the fog traveling up the Russian River from the ocean. The climate makes the Russian River Valley prime Chardonnay and Pinot Noir country. Both grape varieties thrive here with a lush, rich intensity of fruit flavors rarely found in other places. The cooler climate creates the ideal conditions to produce Chardonnay and Pinot Noir with more intense forward fruit, lovely crispness and acidity with great balance and length. This Russian River Valley appellation is truly one of the shining stars of Sonoma.
Varietal / Type